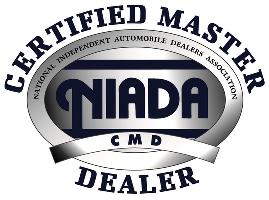 The Auto Finders Inc has been awarded the Certified Master Dealer Designation by the National Independent Auto Dealers Association (NIADA). This certification has been achieved by less than 100 dealers nationally and is awarded to select dealers that are willing to raise the standards of our industry through education, quality merchandise, and excellence in business practices.  The Auto Finders Boast (2) CMDs on Staff.  Michael Darrow and Patrick Darrow.  Both have completed this rigorous coursework successfully!   
WHAT'S A CERTIFIED MASTER DEALER®?
A Certified Master Dealer, a CMD®, is a professional automobile dealer who has demonstrated their commitment to the used motor vehicle industry, to consumers and who supports ethical business standards and principles. They have met the rigid criteria that qualify them as a candidate for the certification program developed by the National Independent Automobile Dealers Association and Northwood University. The CMD® dealer has successfully completed a 32 hour training program that includes general management strategies, financial management principles, successful merchandising techniques, effective human resource practices, and appropriate business planning. They maintain their professional certification by completing at least 12 hours of continuing education every 36 months.
WHY CONSIDER BUYING FROM A CMD®?
These dealers strive to up hold he highest of business practices. They comply with all laws and regulations. Their customers (you the consumer) are their priority and their business goal is to attain success through customer satisfaction. This satisfaction is gained by listening to each customer and responding to the needs of that customer ethically, sensitively, and professionally.