2012 Acura TL Introduction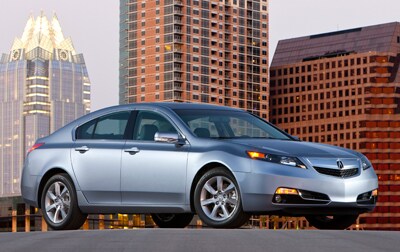 The Acura TL is freshened for 2012 with styling revisions and a new 6-speed automatic that improves fuel economy.
The 2012 Acura TL, styled in Acura's Design Studio, in Torrance, California, continues a long Acura tradition of being outspoken, iconoclastic and polarizing. Many will find the TL distinctive and self-defined, while others will find it lacking in gracefulness.
As the luxury division of Honda Motors, Acura has a high pedigree in advanced, efficient design. And with the continued evolution of its versatile TL line of sedans, Acura delivers a car that will satisfy a broad range of driver demands.
We found the 2012 Acura TL has strong performance and sumptuous creature comforts. Front-wheel drive is standard, but the Acura TL SH-AWD features all-weather all-wheel drive. Packaged in edgy, controversial styling, the fresh looks of the 2012 TL will please many and confuse many others.
The 2012 Acura TL offers two engine packages: The TL comes with a 280-horsepower 3.5-liter V6 that generates 254 pound-feet of torque at 5000 rpm and front-wheel drive. The TL SH-AWD gets a 305-hp 3.7-liter V6 that produces 273 lb/ft of torque at 5000 rpm for higher-performance.
The 2012 Acura TL 3.5-liter delivers EPA mileage figures of 20/29 mpg, quite good for a car with serious credentials in the near-luxury field. The 2012 Acura TL SH-AWD with its 3.7-liter and all-wheel drive when equipped with the automatic transmission is rated 18/26 mpg, while the 3.7 all-wheel drive with manual transmission, the quickest version, gets EPA figures of 17/25 mpg.
Keeping pace with the competition, the 2012 TL offers a new sequential 6-speed transmission with paddle shifters in both versions, as well as the 6-speed manual in the fast TL SH-AWD 6MT. Electronic steering is standard, as is drive-by-wire throttle control.
The Acura TL features a comprehensive list of technological conveniences. Its eight-inch screen offers voice-recognition navigation. AcuraLink provides direct satellite connection with Acura's roadside assistance as well as real-time traffic information and rerouting, real-time weather with radar-image maps, alerts for severe weather and full weather forecasts. All the usual electronics are present, including satellite radio, Bluetooth audio, hands-free phone link, a hard-disc drive for storage of 3,500 songs, speed-sensitive volume and more. Similarly, the TL is well equipped with all the contemporary active and passive safety features, and its interior appointments will satisfy those looking for deluxe accommodations. The front two seats have individual climate controls, and the driver's seat offers 10-way adjustability (including two-way lumbar support). The passenger seat has eight-way adjustability. Elegant leather upholstery and supportive, finely bolstered seats produce a secure, comfortable environment.
One of the most compelling arguments for the Acura TL is price. Following established Acura/Honda marketing practices, instead of starting with a low stripper base-model price, then offering a broad array of extra-cost additional features, Acura offers fully equipped cars packed with all the most attractive features. Our 2012 Acura TL SH-AWD Advance test car was a perfect example. It contained all the basic equipment, plus the bundled Tech Package and Advance Package, for just a tick below $46,000.
And as we got to know the TL, we discovered it had the crisp precision of a medical instrument. Like a medical instrument, however, for some, this car will feel a little short on the automotive abstracts, verve, charisma, charm. It is superbly engineered, and when driven hard, it will accomplish a great deal. Yet some TL competitors, the BMW 3 Series and 5 Series, Audi A4 and A6, Mercedes-Benz C-Class and E-Class, effortlessly elicit a warm smile. But the TL styling, which is to some, awkward and heavy-handed, will command little more than a short nod.
The 2012 Acura TL features a redesigned front bumper with improved aerodynamics, a revised grille, updated headlights and turn signals, a new fog light design and a shorter front overhang. The rear features updated taillights and a new bumper that repositions the license plate.