2012 Acura TSX Introduction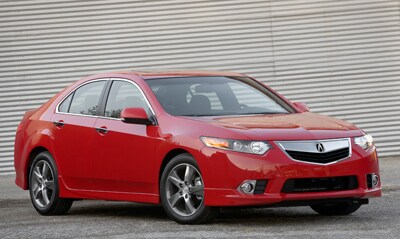 The Acura TSX is available as a sedan or wagon. Both are competent near-luxury cars that are very easy to live with. The TSX Sport Wagon is a nice alternative to a small SUV or crossover. It delivers almost as much utility, better reflexes and better fuel economy than just about any SUV extant.
For 2012, a new Special Edition model joins the Acura TSX lineup. The 2012 Acura TSX Special Edition features a more aggressive front spoiler, new rear bumper fascia, unique side sills, dark grey polished aluminum wheels, and trunk badging. We drove a 2012 TSX Special Edition and really liked it. Its seats are as good as sport seats get, with perforated black suede inserts and red backing and stitching, matched by the stitching on the steering wheel and the shift knob. The headliner is black, instead of the standard TSX gray. There's red instrument lighting, overhead lighting, footwell lighting, and aluminum pedal covers.
The 2012 TSX Sport Wagon has been updated with more rear cargo space gained by replacing the spare tire with a tire repair kit, thus enlarging the storage area under the floor. There's now 66.2 cubic feet, making the TSX wagon the cargo-space leader in its class. We drove a TSX Sport Wagon and thought it was an agile alternative to a crossover SUV.
2012 Acura TSX models come standard with heated leather-trimmed seats, power everything, dual-zone climate control, a great sounding high-watt stereo, electronic stability control and a full array of airbags. The TSX scores well in government and insurance industry crash tests. The 2012 TSX competes primarily with the Audi A4, BMW 3 Series, and Lexus IS, and to a lesser extent with the Mercedes-Benz C-Class, Saab 9-3 and Volkswagen CC.
For 2011, the TSX sedan got a slight face lift and the TSX Sport Wagon joined the lineup. The Acura TSX was last redesigned for the 2008 model year. The TSX was based on the European Honda Accord platform and is expected to be replaced by the smaller 2013 Acura ILX, which is based on the Honda Civic.
The Acura TSX uses front-wheel drive, whereas many sports sedans including some of its competitors are rear-wheel drive. Regardless, this Acura remains one of the better-handling front-drive sedans available. We pushed it during our week-long test with a Special Edition, and it made us happy. It's grown bigger, heavier and more luxurious over the last few years, and as a result it plods a bit more than it once did, yet it's still hard to beat as an everyday driver that can be fun on a winding road.
The TSX comes standard with a 2.4-liter four-cylinder engine rated at 201 horsepower. This engine is smooth and loves to rev. It comes with a choice of manual or automatic transmission, and the slick-shifting 6-speed manual is the most fun TSX to drive. TSX gets good fuel economy, delivering an EPA-estimated 22/31 miles per gallon City/Highway.
A 3.5-liter V6 is available for the TSX sedan, delivering substantially more power and torque, with a 3 mpg mileage penalty. The V6 has a temperament all its own, distinct from the four-cylinder models. It's more substantial, and heavier, with character more in tune with the luxury class.
Technology has always been a big part of the TSX appeal, and this extends beyond the drivetrain and chassis. Acura's superb navigation system is the equal of anything in the class. It displays real-time traffic with congestion re-routing and local and national weather. An airlines display lets you track a flight's progress across the country. The top-line audio system sets a standard for the class, too, with superbly crisp surround sound. Like the other features, voice command and hands-free Bluetooth cell phone architecture are cleanly integrated with the car's electronics.
The TSX delivers Acura's hallmark traits of smooth mechanicals, a clean stylish cabin, and distinctive design. If it isn't a true sports sedan because of its size and front-wheel drive, it's very good being what it is: a stylish, efficient premium compact sedan with a sporty tilt. If passengers aren't too tall, the TSX is also a comfortable commuter car, as long as the freeway isn't too rough.