2012 Acura ZDX Driving Impressions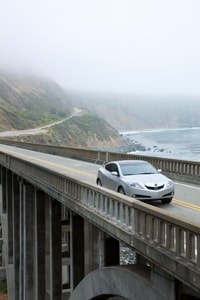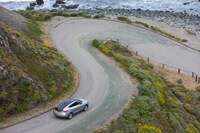 Underway, the Acura ZDX feels smooth and refined. Noise and vibration are filtered out and the result is a very quiet and composed vehicle.
Handling is a bit sportier on ZDX models equipped with the two-position (Sport or Comfort) Integrated Dynamics System that accompanies the Advance Package.
Assisted by Acura's SH-AWD intelligent all-wheel-drive system, the ZDX steers accurately and hangs on well in fast turns. The extensive ride-motion control strategy (using magneto-rheological damping fluid that varies its viscosity in response to an electric current to vary shock damping) helps the ZDX retain a plush ride in more sedate applications.
While it seems almost eerie to bend a large and heavy vehicle like the ZDX through the tortuous sections of a canyon road and have it stay on line and not wallow, the layer of relentless refinement still makes itself felt with a slightly remote steering feel and gearshifts, even when initiated manually, that are a touch sluggish in response.
The ZDX shock tuning is clearly on the comfort side of the equation, yet the ZDX still acquits itself well on tortuous roads for a 4500-pound vehicle. But comfort and isolation are this car's priorities, and drivers needing a more sharply honed experience should probably look at Acura's RDX, which is lighter and more responsive in challenging terrain.
The 3.7-liter V6 engine is smooth, its performance in most circumstances best described as mellifluous. Most of the power lives in the higher rev ranges, though the torque isn't bad in the mid-range either, thanks to the VTEC variable valve-event technology. Low-rev urge, however, isn't enough to overwhelm the two tons of luxury equipment without downshifting help from the obliging 6-speed automatic.
Fuel economy is an EPA-estimated 16/23 miles per gallon City/Highway, or 19 mpg Combined.
As for open-road conduct, there isn't much that can waft passengers along with better comfort, quietness and security than these big Acuras. Let's face it, that's what most shoppers in this segment are looking for, and in the ZDX they get it in spades.