2012 Acura ZDX Introduction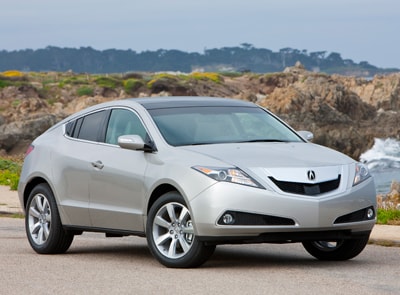 The Acura ZDX projects the image of a car, a four-door coupe, yet it offers some of the utility of a crossover SUV. Larger than it looks, ZDX seats five.
Based on the Acura MDX midsize sport-utility, the Acura ZDX looks a bit like a four-door coupe, with hidden rear door handles to exaggerate the two-door look. Its design uses pronounced fender flares, a raked windshield, pronounced tumblehome on the side glass (it curves inward toward the top), and a fastback roofline.
The ZDX cabin is richly appointed with hand-stitched leather and special materials used for a bold appearance. ZDX is very comfortable for two, and the front passengers will find plenty of room. Tall rear-seat passengers will find it a little cramped for headroom and legroom, though it's fine for those of average or shorter stature. Also, the long, coupe-like front doors and short rear doors make access to the back seats less convenient. On the other hand, who cares what those back-seat people think? They're not making the car payments, right? It's the folks up front who matter here.
Underway, ZDX glides along with a plush, well-controlled ride, and the creamy propulsion provided by its sophisticated drivetrain. The ZDX is powered by a 300-horsepower 3.7-liter V6 hooked to a 6-speed automatic with manual override control (via steering-wheel buttons). Throttle response is immediate and authoritative, and the gearshifts are smooth and positive. Noise levels are low while cruising, the climate-control system effective and the entertainment systems bright and clear. Fuel economy is an EPA-estimated 16/23 mpg City/Highway.
In normal driving, the ZDX steers keenly and stays on line with an intuitive accuracy, responding with moves that belie its considerable size and heft. Pick up the pace, and the ZDX steers accurately and hangs on well in fast turns, benefitting from Acura's SH-AWD intelligent all-wheel-drive system. Only when pressing hard in the convoluted confines of a canyon road does the big Acura begin to remind its driver that it's a close relative of the big MDX. Narrow roads quickly emphasize the car's width, and we were hard-pressed to avoid the Botts dots from drumming through the suspension as we put wheels over the line. The ZDX does better in the twisties when ordered with the integrated dynamics system that is part of the Advance Package. But the ZDX is more about luxury than sporty handling, its priorities highlighted by slightly numb steering and unhurried transmission response.
ZDX is stylish and luxurious yet practical. ZDX offers nearly 56 cubic feet of cargo space when the rear seats are folded. A hatch-like rear door provides easy access to the cargo area, and the liftover height is low, making loading and unloading cargo easier.
Launched as a 2010 model, Acura ZDX is unchanged for the 2012 model year.