2012 Audi A6 Introduction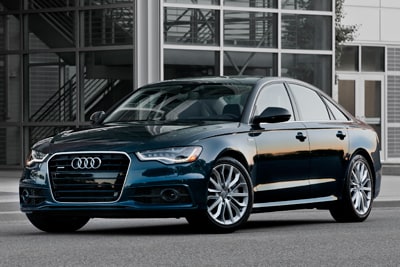 The Audi A6 has been redesigned for 2012. The all-new 2012 Audi A6 has a longer wheelbase than the previous version but it's shorter and wider, by small but noticeable amounts. A new body is better balanced and more athletic. It's a bit taller but improves the coefficient of drag of 0.26, as good as it gets. It's a very lovely car, especially in charcoal.
The A6 seats five, but it's a stretch. The rear center seatback doubles as a fold-down armrest so it's not contoured for a human back, and it straddles a driveline tunnel so spreads the unlucky passenger's feet. It's more comfortable for four people. Rear legroom of 37.4 inches isn't bad.
By streamlining the A6 fleet, Audi has redefined the car. Only two engines carry the A6 line now, when there had been five. The 3.2-liter V6, 4.2 V8, and 5.2 V10 have been benched, leaving the 2.0-liter I4 turbo that's becoming ageless, and the newer 3.0-liter supercharged V6.
The 2012 A6 3.0T is silky smooth, and fast. It gets 310 horsepower and 325 pound-feet of torque out of the 24-valve V6 using direct injection, supercharging and intercooling. The previous 6-speed automatic transmission is replaced by a flawless 8-speed automatic for 2012.
The 3.0T uses quattro all-wheel drive, which sets the front/rear power distribution at 40/60 percent for cruising, but depending on traction demands, can vary from 15/85 to 70/30. In its advertisements, Audi says the A6 makes 2000 decisions per second; many of them are about giving quattro what's needed. The 2012 A6 3.0T gets an EPA-estimated 19/28/22 mpg City/Highway/Combined. We got 31.6 miles per gallon on premium fuel, running with the cruise control set at 72 mph in the 3.0T. Puttering around town, we dropped as low as 16 mpg.
The 2012 A6 2.0T uses front-wheel drive and a CVT (continuously variable transmission). If you don't need all-wheel drive, the 2.0T looks good, because you get the same suspension, ride, looks and interior for about $8000 less. You also get 6 more miles per gallon: The government estimates the 2.0T at 25/33/28 mpg City/Highway/Combined, which appears to be best in class.
It's hard to beat the 2012 A6 interior for style and class. One arc flows gracefully into the next, on the dash and door panels, from vents to grab handles. On the 3.0T, the leather is grainy, wood is walnut, trim brushed aluminum.
The A6 went through 4000 crash simulations to reach its level of safety, with special attention paid to the front crumple zone, where structural cross members direct impact energy to two longitudinal members that deform in a controlled manner. In European crash testing from various directions, it's earned 5 stars.