2012 Audi A7 Driving Impressions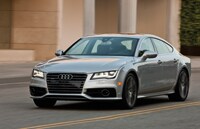 If one were to describe an ideal powertrain for a car like this, it might be the A7's 3.0-liter supercharged V6, making 310 horsepower and 325 pound-feet of torque, and getting 18 city and 28 highway miles per gallon. It's fast and silky. Now attach the seamless 8-speed Tiptronic automatic transmission with paddle shifters, that you can either play with or forget about. Combine them with the superb Audi quattro all-wheel drive system for all-season traction, and you can't be beat. However, premium fuel is required for the high-compression engine with spark ignition and direct injection.
Acceleration from 0 to 60 is 5.4 seconds, quick as you'd ever need to slip safely onto the freeway. You can't even feel the transmission shifting on the climb up to 60 and beyond, and it will maintain 80 mph uphill without kicking down. The Mercedes CLS offers a big V8 with big horsepower, but that means significantly more money and less fuel mileage.
Then there's Audi Drive Select, a program that allows the driver to choose one of four modes: comfort, auto, dynamic and individual. These modes adjust the transmission, power steering and engine to modify shift points, steering boost and throttle characteristics. With so many options, you can find what makes you happy.
The brakes are powerful with an easy feel requiring no concentration. They'll never be an issue, with gigantic 14-inch front and 13-inch rear rotors.
The ride was smooth and comfortable at all times, but we found the steering a bit disconcerting. We don't mean the cornering, because the more you challenge the A7 in corners the better it feels; our A7 had the 20-inch wheels with 265/35/R20 summer performance tires and a tuned suspension. But lane-changing on the freeway kept us on our toes. The A7 with sport suspension in 20-inch tires is sensitive to road surfaces, and tends to want to move around at 70 mph or even less. Not a weave, not a twitch, more like a drift. The more you drive it, the less you notice it, but the movement requires that you pay attention to your steering. The standard tires may be better in this regard, but we haven't tested them.
The new Servotronic speed-sensitive electromechanical power steering system that Audi calls "highly efficient." Mechanically, it's most likely true; but when they use adjectives like that, as with the Multi Media Interface, we get leery. It has a quick 15.9:1 ratio, that Audi calls "sporty and direct."
Since our Prestige had the big wheels and tweaked suspension, we wonder how a simple Premium would move on the freeway. Maybe with less efficiency and directness, which might be a good thing.