2012 Audi A8 Introduction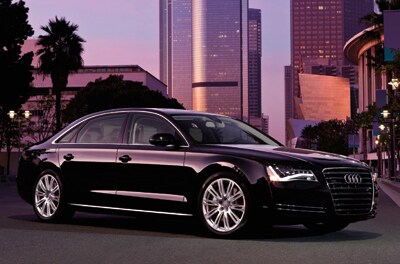 The Audi A8 is an impressive blend of performance, technology and luxury. Its 372-horsepower 4.2-liter V8 is capable of propelling this big sedan from 0 to 60 miles per hour in just 5.7 seconds or cruise for hours on end at 100 mph. Quattro all-wheel drive makes it feel like it's riding on rails. The A8's cabin is luxurious and equipped with the latest in technology.
The A8 was redesigned for the 2011 model year, making it the newest and most advanced of the big German luxury sedans. The BMW 7 Series was redesigned for 2009, while the current-generation Mercedes-Benz S-Class has been with us since the 2007 model year.
There are only minor changes to the 2012 Audi A8 lineup. Among them: Audi connect integrates Google Earth into the navigation system, providing realistic panoramic views and high-resolution 3D satellite and aerial imagery in place of the road-map look of less sophisticated systems. A Camera Zoom feature allows closer views. Real-time traffic information is available through the SiriusXM Traffic service. WiFi connectivity is available inside the cabin for up to eight devices.
The 2012 Audi A8 comes in standard-length and long-wheelbase A8L versions.
The Audi A8L features an extra-roomy back seat that can be decked out with reclining seats, a powered footrest, and a built-in refrigerator. The long-wheelbase variant is offered with either the 4.2-liter V8 or a 6.3-liter W12 that delivers 500 horsepower and 463 pound-feet of torque. All A8 models come with the 8-speed Tiptronic transmission.
The A8 is a true luxury car with high-quality furnishings and great attention to detail. A superb Bang & Olufsen surround system with 19 speakers and a 1400-watt amplifier is available, along with ventilated and massaging seats, rearview camera, sports suspension, and a heated steering wheel. The A8L offers a rear seat entertainment center with a pair of 10-inch LCD screens and individual audio controls.
Freshly redesigned, the A8 features a giant trapezoidal grille that has become an Audi trademark. Taillights are LED, the light-emitting diode technology that is becoming a hallmark of upscale cars. If the option box is checked, the high beams, low beams, turn indicators and side marker and running lights are all LED as well, and we've found the carefully arrayed LEDs produce an even, wide pattern of very white light with no hot spots.
In spite of its size and weight, the A8 provides sporty performance and handling, responding quickly to changes in direction. When pushed hard, there is little understeer or oversteer, benefits of the balanced chassis and Audi quattro all-wheel drive. At the same time, directional stability on long straight stretches of road inspires confidence. The A8 is among the world's best high-speed cruisers.
Audi's MMI multi-media interface employs a touchpad embedded in the center console to control the navigation and sound systems. The pad is multi-talented, offering functions ranging from back lighted number displays for audio presets or owner-programmed functions to scrolling through displayed menus to handwriting recognition (printed block letters and numbers) for keying in navigational requests, like addresses or city names.