2012 Audi Q5 Driving Impressions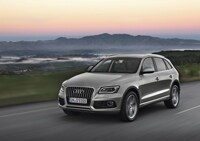 As vehicles in this class go, the Audi has the look of an athlete, and its outstanding chassis rigidity, firm suspension tuning, excellent path accuracy, brisk responses, and powerful braking system deliver on the implied promise of the styling.
The steering is exceptionally tactile and linear, and the agility index is above average in a class with steadily escalating handling standards. Braking performance is smooth and strong, with firm pedal feel, good stopping distances, and no hint of fade in hard use.
Audi's 3.2 V6 delivers respectable punch, propelling this two-tonner to 60 mph in about 6.5 seconds. Top speed is electronically limited to 130 mph.
The 6-speed automatic is about average in terms of shift response time and smooth operation, although it's upstaged by the new 8-speed automatic in the 2.0 T. Still, the 3.2 has a high fun-to-drive index for a vehicle in this class, as well as all-day comfort, with a couple minor asterisks. For one, the suspension tuning can be a bit stiff on choppy pavement or washboard dirt roads, although the Audi Drive Select option can mitigate this phenomenon. In the same vein, a fair amount of noise can find its way into the cabin via the suspension on nasty surfaces, although the Q5 is otherwise a quiet operator.