2012 Audi Q7 Driving Impressions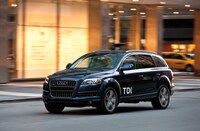 On the road, the Q7 behaves like an Audi, albeit a big, heavy one. The fully independent suspension delivers a comfortable ride and controlled handling. Road imperfections are managed without becoming annoying jolts or booming sounds in the cabin. Even at high speeds, interior noise level is low enough for conversation to be held without raising one's voice. Perhaps not as cushy as a Lexus RX nor as stiff as the BMW X5 or Infiniti FX, the Q7's ride hits the sweet spot many luxury SUV shoppers desire.
Q7 3.0T Premium models get a 3.0-liter supercharged V6, which produces 280 horsepower at 4920 rpm and 295 pound-feet of torque at 2250. The V6 is a smooth runner that doesn't need hard revving. Aided by the 8-speed automatic it can sprint from 0 to 60 mph in 7.7 seconds, while rating an EPA-estimated 16/22 mpg City/Highway. Premium fuel is required.
The Q7 3.0T S line Prestige model uses a higher-boost-pressure version for 333 hp and 325 lb-ft of torque. The 0-60 mph sprint drops to 6.9 seconds, while EPA fuel economy rating remains the same. But if you use the extra 53 hp in a heavier car, you will use more gas
The diesel-powered 3.0-liter V6 TDI delivers ample power, providing seamless and nearly soundless thrust. The real story here is the TDI's massive 406 pound-feet of torque at just 1750 rpm and EPA ratings of 17/25 mpg. With this diesel engine's flexible power, immediate sturdy acceleration is always on tap no matter how fast the engine is turning. It is less than one second slower 0 to 60 mph than the base gas model, but feels at least equal in daily driving.
This characteristic makes the TDI an unusually reassuring and stress-free driver, and that is despite Q7 TDI's very considerable heft of more than 5,500 pounds. Under strong acceleration, the diesel makes a throaty growl, yet in neutral-throttle cruising, only the most discerning ear will hear anything different. And furnished with the optional Towing Package, capable of hauling 6,600 pounds, the torque-heavy diesel will be happy in its work. The TDI produces about 25 percent less carbon dioxide than a comparable gasoline engine and reduces nitrogen oxides by up to 90 percent when compared to past diesels. And, with its efficient filters, the exhaust is often cleaner than the smoggy ambient air that went into the engine (look in the tailpipe, it won't be black). The TDI should last longer than a comparable gasoline engine, which should pay dividends in resale value and long-term ownership value.
The 8-speed automatic transmission shifts so smoothly it's almost imperceptible except during full-throttle acceleration. The Sport mode provides faster shifts and automatically holds gears a bit longer for more responsive performance. If the driver wants to shift manually, the Tiptronic manual shift feature is selected by moving the shift lever to the right, then tapping it up or down as desired. The multi-information display in the instrument cluster clearly displays the selected gear.
Quattro all-wheel drive works full time and requires no driver input. Normally, power is delivered to the front and rear wheels in a 42/58 percent split to create a rear-wheel-drive bias for confident dry-weather handling. When driving conditions become such that traction becomes compromised, the torque split is automatically adjusted between the parameters of 65/35 to 15/85 percent, front-to-rear.
Electronic stability control, or ESC, manages wheel slip by applying the brake at the slipping wheel. The system helps maintain stability in corners by lightly applying the brakes to individual wheels when the vehicle's path doesn't match the driver's intentions. The Q7's electronic stability control system is enhanced with an off-road mode that can be switched on to allow some slip for smooth power delivery on gravel or sandy surfaces. For steep, slippery grades, hill descent control automatically maintains (as long as the tires have traction) a 12-mph speed by applying the brakes to individual wheels without driver input, allowing the driver to concentrate on steering.
Towing capacity starts at 5500 pounds for all models but rises to 6600 pounds with the optional towing package. The adaptive air suspension features a trailer mode that helps manage the unique physics of towing. The air suspension is self-leveling, so when towing you're not blinding other drivers with your low beams. The Q7 also has a Tow mode for the electronic stability control calibrated to counteract swaying motions that can become dangerous when pulling a trailer.
The Q7's power steering is speed-sensitive, reducing the amount of assistance at higher speeds to deliver more road feel. Steering isn't as heavy as that in the BMW X5, for example, but nor is it as light as that of the GMC Yukon. On-center feel is outstanding, with steering inputs met by quick response, and it's just 2.7 turns of the steering wheel from lock to lock.
Handling is superb for a vehicle of this size. The Q7 is only two inches shorter than a Cadillac Escalade and actually has a longer wheelbase. Nonetheless, it feels much smaller, reacting readily to quick changes of direction. It cuts a decent U-turn, tighter than some five-seat compact crossovers. Only in close-quarter handling such as small or parallel parking spots and narrow drive-throughs does the Q7's size become evident.
The Adaptive Air Suspension uses electronically controlled, air-filled bags in place of traditional steel springs and allows the driver to select one of three firmness settings, as well as raise the vehicle to a ground clearance of 9.4 inches for deep snow or off-road driving. The Comfort setting allows the suspension to absorb more road impacts for a relatively smooth ride at all situations. The Automatic mode offers compliance during straight-line travel, but stiffens up during cornering for tauter handling. The Dynamic mode lowers the vehicle 0.6 inches to a ground clearance of 6.5 inches, which lowers the center of gravity and enhances aerodynamics. Generally, we found the Q7's ride to be acceptable though firm, even in the softest Comfort setting. That's typical of a German sedan. We preferred the Automatic setting during normal driving because Automatic offered the best ride and handling balance. The Dynamic setting was noticeably stiffer; rewarding during enthusiastic driving, but hard enough that we switched back to Automatic or Comfort for around-town motoring.
We also drove the Premium Plus model with 20-inch wheels and without the air suspension. In a tough test on pockmarked Chicago roads the Q7 proved to be firm but never harsh. It ironed out the small stuff well and significantly limited the harshness of sharp bumps and potholes. The base suspension is a good choice if you won't tow anything near its limit with your Q7 or don't need the height adjustments. Big 21-inch wheels with fat, sticky tires are available with the S Line and offer maximum grip, but ride quality will suffer somewhat, chains may not be usable, and the tires are expensive to replace.
A Q7 is mildly capable off the highway. With short overhangs, decent vertical wheel travel and electronic traction technology, Audi says it can ford up to 20 inches of water and can climb a 31-degree slope. That said we would limit off-road adventures to sand dunes, gravel or muddy roads or desert by-ways. If you adventure into more severe terrain, a Land Rover LR2, Dodge Durango, Lexus LX or Infiniti QX would be more appropriate.
The brakes feature four-wheel discs, ABS, Electronic Brake-force Distribution, and Brake Assist, all of which can help the driver maintain control after slamming on the binders. We found the Q7's brakes terrific: They were responsive, with a firm yet communicative pedal. There was no hint of brake fade whatsoever on our spirited drives.
Adaptive Cruise Control goes a step further than conventional cruise control systems by using radar to maintain a constant distance between the Q7 and the vehicle ahead, accelerating and braking as necessary. The Q7's system is unusual in its ability to bring the vehicle to a complete stop, and then accelerate again all the way up to 90 miles per hour without any driver input. The Q7 driver can specify how aggressively the system will operate, from sporty to leisurely. Many similar systems from other automakers will not stop the car completely.
Side Assist employs a radar sensor mounted in the rear bumper to monitor the presence of vehicles occupying or entering the Q7's blind spots. The presence of a vehicle traveling alongside the Q7 within the 16.5-foot range of the sensor will prompt subtle amber LEDs to illuminate in the corresponding outside mirror housing. If a turn signal is switched on, indicating a pending lane change, the LEDs become brighter and start to flash. The system is active at speeds above 35 mph and can be deactivated. We found this system works well, helping alert us to cars in our blind spots while driving on L.A.'s I-405, one of the nation's busiest freeways. The system can be turned off when not desired.