2012 Audi Q7 Introduction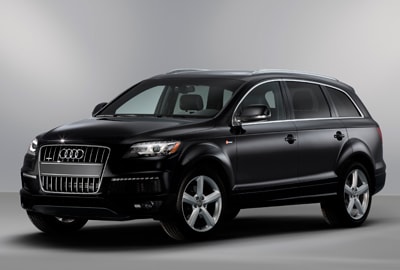 The Audi Q7 is a big SUV that's big on refinement, comfort and features. Its luxurious cabin is fitted with seven seats. There's a choice of gasoline or diesel power, and all models come with all-wheel drive. We found the Q7 a paragon of driving elegance and interior refinement.
The Q7 is derived from the same platform as the Porsche Cayenne and Volkswagen Touareg, but there are substantial differences. The Audi is a foot longer and has a longer wheelbase. The extra length allows room for three rows of seats for seven passengers, while the other two offer only two rows of seats for five passengers. When compared with the Porsche and Volkswagen, we've noticed the Audi rides more smoothly and is more stable at high speed, though the Q7 is less agile in terms of handling and less maneuverable when parking due to its longer length.
The 2012 Audi Q7 3.0T comes with a supercharged 3.0-liter V6 rated at 280 horsepower, an increase over the 2011 model. The Q7 S line model has 333 horsepower.
The Q7 3.0 TDI comes with 3.0-liter turbocharged diesel engine rated at 225 hp and 406 pound-feet of torque. The diesel's impressive torque gives it a performance advantage over the gas engines when taking off from intersections or accelerating up steep hills, and it's the logical choice for those planning on towing. The diesel is also the easiest on fuel, though the diesel engine adds about $5,000 to the price.
New for the 2012 Q7 is an S line Plus package with black trim around the grille and windows and massive 21-inch Titanium alloy wheels with 295/35R21 summer tires. Also new, the 2012 Q7 integrates Audi Connect into the navigation system, enabling Google Earth and Google Local Search as well as providing a rolling Wi-Fi Hotspot for up to eight passenger devices. Launched as a 2007 model, the Q7 was freshened for 2010, and benefitted from new engines and an 8-speed automatic for 2011.
Audi Q7 competes with the BMW X5, Mercedes-Benz GL-Class, and Volvo XC90. The smaller Lexus GX470 and the more comparable Lexus LX570 are more expensive.