2012 Audi Q7 Summary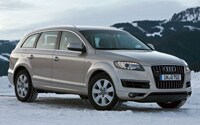 The Audi Q7 delivers luxury, comfort, safety, and capability. It offers significant towing and flexible capability and mild off-road performance. It seats seven and offers a high seating position that commands an excellent view of the road ahead. The Q7 is richly infused with Audi's luxurious style and habitually high-grade interior materials and design.
NewCarTestDrive.com correspondents Ted West, Kirk Bell, Mitch McCullough, G.R. Whale, and John Katz contributed to this report.