2012 BMW 1 Series Introduction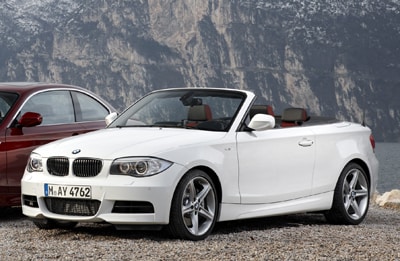 The BMW 1 Series features improved aerodynamics and interior refinements for the 2012 model year, plus a high-performance 1 Series M Coupe has joined the lineup.
The 2012 BMW 128i Coupe and Convertible models get a redesigned front fascia for improved aerodynamics along with new design accents around the headlight and tail light clusters. Inside, all 2012 BMW 1 Series models have been updated with new switches and controls for a more refined look and feel.
New for 2012 is the 1 Series M Coupe, a high-performance version that can accelerate from zero to 60 mph in just 4.7 seconds on its way to a ridiculously high speed, limited electronically at 155 mph.
The BMW 1 Series is the marque's smallest car, in some ways the spiritual successor to the BMW 2002 produced 1968-76 and in other ways the 320i that followed. The BMW 128i and 135i coupes and convertibles deliver the sporty dynamics of rear-wheel drive, agile handling, powerful engines and seating for four, all those attributes we've come to expect from the Bavarian automaker, in a smaller, more affordable package.
The BMW 128i Coupe and Convertible are powered by a 3.0-liter inline-6 that generates 230 horsepower and 200 foot-pounds of torque. They're available with 6-speed manual or 6-speed Steptronic automatic. BMW says the 128i can accelerate from zero to 60 mph in 7.0 seconds with the automatic, 6.4 seconds with the manual.
The BMW 135i features BMW's newest 3.0-liter inline-6, a single-turbocharged engine that generates 300 horsepower and 300 foot-pounds of torque. The BMW 135i Coupe and Convertible are available with a sporty 7-speed Dual Clutch Transmission or 6-speed manual gearbox, which we found silky smooth and a pleasure to operate. A BMW 135i can accelerate from zero to 60 mph in 5.4 seconds with the manual gearbox, 5.3 seconds with the 7-speed DCT. Fuel economy from the BMW 135i Coupe is 20/28 mpg City/Highway with the manual.
A BMW 1 Series Convertible can drop its top in just 22 seconds. Top-down motoring is one of life's great joys, so this is a great feature.
A BMW 1 Series model is nearly seven inches shorter than a 3 Series car. The 1 Series wheelbase is four inches shorter than that of the 3 Series, and it's a significant 2.7 inches narrower in width. The 1 Series brings BMW's highly developed rear-wheel-drive platform to compete with cars in the entry luxury coupe class that mostly use front-wheel drive.
In many ways, the 1 Series is nothing more or less than a scaled-down version of the 3 Series, with similar looks, similar equipment and similar performance and handling. Indeed, it uses many of the same components and systems. The 135i is a smaller, lighter package with the same engine as the 3 Series for a lot less money. The BMW 1 Series was launched in the U.S. as a 2008 model, initially only as a coupe.
We like these cars. They are comfortable; sitting in one is like sitting in a 3 Series. They only seat four, however. Underway, they are sporty and agile, driver's cars, with the feel of rear-wheel drive. We found a 128i Convertible is a delight and it has enough power. Most fun to drive is a 135i Coupe. We recommend against the M suspension due to the hard ride. The new single-turbocharged engine turns the 135i into a little hot rod, and it seems to have a bit more torque lower down, where we use most of it in everyday driving.
The new BMW 1 Series M delivers race car performance.