2012 BMW 3 Series Summary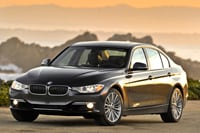 The all-new 2012 BMW 3 Series sedans improve on the previous generation in every way, and that's saying something. The new 328i and 335i are very enjoyable to drive, comfortable, easy to live with. And they are fully plugged into the Internet. The BMW 328i delivers good fuel economy and strong acceleration performance from its turbocharged four-cylinder engine. The BMW 335i improves on this slightly with only a slight diminution of fuel economy from its turbocharged six-cylinder. The new 3 Series sedans remain the benchmark in this class.
NewCarTestDrive.com editor Mitch McCullough filed this report from Monterey, California.