2012 BMW 640i Introduction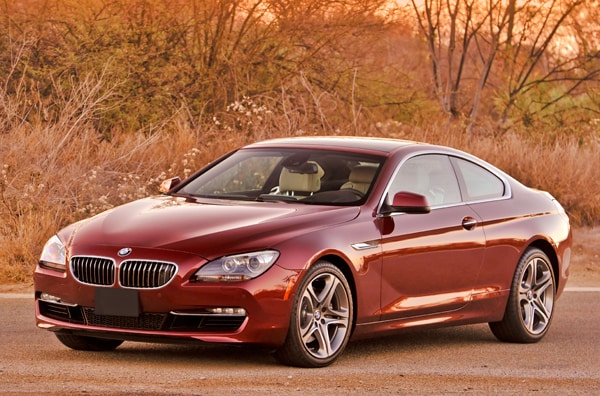 The BMW 640i Coupe and Convertible were redesigned for 2012, with a stiffer chassis that's heavily composed of aluminum, new skin, and improved engine. The 6 Series Coupe is a gorgeous car, with a long hood, low roofline, stylish sculpting on the sides, and big but smooth rear end. The 6 Series Convertible has a shapely roofline and is eye-catching with its black soft top.
The best thing about the 640i might be its 3.0-liter inline six-cylinder turbocharged engine, sweeter than the more powerful and thirsty twin-turbo V8 that's in the 650i. The latest version of this brilliant powerplant uses direct injection and variable valve timing, makes 315 horsepower and 330 foot-pounds of torque from 1400 to 4500 rpm, and easily propels this car from 0 to 60 mph in 5.4 seconds. It gets an estimated 20 city and 30 highway miles per gallon.
The silky and fast-revving engine is matched by a superb new 8-speed automatic transmission that's tight, quick, smooth, responsive and obedient, whether in manual sport mode, or auto mode shifting on its own. Its programming is not intrusive in the least; that is, it doesn't try to show off its gears by using them all the time. Actually, the top two gears are overdrives for long-legged freeway cruising and better fuel mileage.
There are a number of mechanical features that BMW calls Efficient Dynamics measures, including Auto Start-Stop, which shuts the engine off at stoplights, and re-starts it again when you need to go. It might increase fuel mileage, but we found the start-up annoying, and wonder how many BMW owners will use it to lower their fuel bill. We also wonder about the additional wear on components such as the battery and starter. It can be turned off, but not conveniently.
Other features include standard adaptive xenon headlamps or optional adaptive LED headlamps, and a rear-view camera, which, in our 640i Coupe, kept showing its view even after the car was moving forward down the block. Another annoyance was the parking distance beeper, which, when we backed up, screamed that we were about to hit the parked car in FRONT of us, while the display flashed impending contact at the front fender.
Optional packages can raise the price of the 640i by thousands, and they do, for most BMWs in dealers' inventories. They include Surround View, Parking Assistant, BMW Night Vision with pedestrian recognition, Lane Departure Warning System, Active Blind Spot Detection, and Bang & Olufsen High-End Surround Sound System. Based on the harassment we suffered from the features that are supposed to be drivers' aids, we would stay away from such allegedly helpful options.
However, one optional feature we definitely love is the Head-Up-Display, with programmable information shown in colors on the windshield. We also like BMW's adaptive cruise control.
There's standard Dynamic Damper Control, electronic shock absorbers that adapt to the road surface and adjust compression and rebound settings continuously and independently. It sure worked for us, because the 640i ride was smooth and comfortable everywhere we took it. Optional Active Roll Stabilization provides more precise and flat cornering if you drive the 640i hard in the curves.
The Dynamic Stability Control brings together the ABS, Dynamic Traction Control, Cornering Brake Control, Dynamic Brake Control, Start-off Assistant for hills, Brake Drying function and Brake Fade Compensation. Standard equipment includes 18-inch alloy wheels with all-season tires run-flat tires, and a tire pressure monitoring system. Many run-flat tires make the ride stiff, but the 640i ride is comfortable over all surfaces.
The interior is rich and classy, as you would expect a BMW to be. It's focused on the driver with the instrument panel and controls angled toward him or her. The doors use a combination of convex and concave surfaces, designed to generate a feeling of depth, and make the driver feel secure. The standard leather is naturally high quality, although naturally you can upgrade to a softer plusher skin for your luxury upholstery.
The instrument cluster uses beautiful silver-rimmed analog gauges, and an excellent display with a large 10.2-inch high definition screen using "trans-reflective" technology that makes it easy to read in sunlight; BMW leads the way on this one, as the screens of some other cars, namely Jaguar and Land Rover, are almost useless in some light. The audio and navigation systems, phone, infotainment and other functions are controlled by BMW's iDrive, now in its fourth generation and finally convenient. We can say with great pleasure that it's easy and intuitive.
For 2013 BMW has introduced a longer and heavier 640i Gran Coupe, using the same powertrain as the 2012 640i Coupe. The Gran Coupe has two more doors and nearly five more inches of rear legroom, and can seat a fifth passenger in a pinch, but we're not sure it's worth it.