2012 BMW 650i Driving Impressions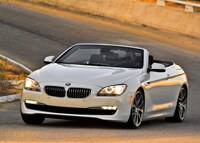 A new rear-wheel drive architecture, heavily composed of aluminum, makes for a chassis that BMW says is 50-percent stiffer than the previous 6 Series. While navigating the 650i Coupe through quick left-right chicanes on the less-traveled roads of Northern California, our closed-topped 6 Series felt balanced and composed despite its size, leaving us less likely to relegate this car to freeway cruising than we would its heavier, topless sibling. Power delivery is immediate and enthusiastic, without a hint of delayed-reaction turbo lag.
Ride stiffness and steering response can be adjusted by selecting one of four settings: Comfort, Normal, Sport and Sport-Plus. The Normal setting delivers a balance of alert steering feel and shock-absorber damping ideal for everyday driving. The Sport setting immediately elevates and stiffens the steering feel and hardens the ride quality for heightened road feel in more vigorous driving. It also increases the 650i throttle mapping to provide more a more directly responsive gas pedal.
Sport-Plus goes a step further, partially reducing the amount of automatic stability control and allowing aggressive cornering of the sort expected on a racetrack. BMW offers optional rear-wheel steer, which helps in parking and supports vigorous cornering. And in a nod to performance as theater, in both Sport and Sport-Plus modes, a tiny spritz of fuel is shot into the exhaust, which produces a race car-like boom with each paddle shift.
In Comfort mode, the 650i forsakes sharp BMW driving dynamics for a soft, floaty ride, numb road feel and elastic steering. While this might be fine for long-term leisurely cruising on the Interstate, it seems strangely out of place coming from a car company so keen on performance.
The 8-speed automatic transmission exhibits fast, almost imperceptible shifting, and delivers peak fuel efficiency. No small issue. This heavy car's fuel is in the Gas Guzzler territory and may incur $1000 or so in federal tax.
The 6 Series brakes have their work cut out for them hauling this two and a quarter-ton beast to a stop. But BMW has provided massive 13.77-in. and 13.6-in. discs front and rear. The brakes also come into play in the electronic stability control system, braking individual wheels to balance the car and eliminate wheel slip. In emergency stops, full brake pressure is applied automatically, and there is a provision for automatically drying the brakes in wet driving. Finally, 650i brakes have a regenerative feature which captures electric energy during braking and transfers it to the battery, reducing alternator drag.
The BMW 650i has a full inventory of safety provisions: lane-departure warning, active blind spot detection, rear- and top-view cameras, automatic high beams, parking assistant and a full-color head-up windshield display, with optional night vision, pedestrian detection and adaptive cruise control, which monitors and adjusts the interval between you and cars ahead. For those who would rather rely on their wits as opposed to myriad computer systems to drive, some of these gadgets can be left off the option list, or turned off.