2012 BMW 650i Introduction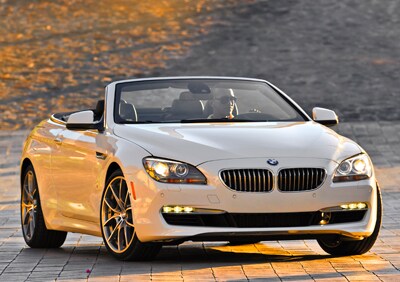 The BMW 6 Series is all-new for 2012. Longer and wider than last year's versions, the 2012 BMW 650i Coupe and Convertible are sleeker than before. The 2012 BMW 6 Series models boast fresh styling, serving to announce a powerful new twin-turbocharged 4.4-liter V8 engine.
Smaller, lighter and more powerful than last year's engine, the V8 in the 2012 BMW 650i models produces 400 horsepower. More important is its 450 pound-feet of torque, providing exceptionally strong response over a wide powerband, with peak torque available from 1750 to 4500 rpm.
This is a welcome improvement because the BMW 6 Series is more grand touring car than sports car and it is not light. A powerful engine is needed to deliver the expected acceleration performance, and, in fact, it does just that. Whether in the Coupe or Convertible, we found power delivery immediate and enthusiastic, without turbo lag.
BMW says its 2012 650i Convertible can accelerate from 0-60 mph in 4.9 seconds whether equipped with the 6-speed manual transmission or 8-speed automatic with paddle shifters. That's very quick indeed, and the Coupe should be at least as quick.
Though topping 4,200 pounds, the BMW 650i boasts features to minimize weight, including lightweight seats with integral seatbelts and crash-activated anti-whiplash head restraints, lightweight aluminum doors, hood and front spring mounts, reinforced composite front side panels and trunk lid. The 650i Coupe weighs 4233 pounds, while the 650i Convertible weighs a hefty 4531 pounds.
A heavy car with a powerful V8 means big gas bills. The 2012 BMW 650i Coupe and Convertible earn an EPA-estimated 15/23 mpg City/Highway with the automatic, 15/22 mpg with the manual gearbox.
We found the 2012 BMW 650i coupe and convertible enjoyable to drive. They cruise well at high speeds and are comfortable and competent. They are not sports cars, however, too big and heavy to careen around corners with the gusto of lightweight BMWs of yore.
While navigating quick left-right chicanes on the less-traveled roads of Northern California, our 650i Coupe felt balanced and composed despite its size. The Convertible is heavier and feels more at home on the highway.
The BMW 6 Series competes most directly with the compelling Jaguar XK and the less-expensive Mercedes-Benz E-Class coupe. If you like BMWs, want a sumptuous cruiser and aren't concerned with price or fuel economy, the 2012 BMW 6 Series is an excellent choice.