2012 BMW 7 Series Summary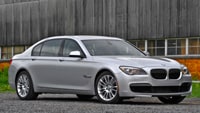 The 2012 BMW 7 Series is the ultimate driving machine among big luxury sedans. It offers impressive performance from its brilliant engines. Underway, it feels solid, and its balance of smooth ride and sharp handling borders on amazing. The six-cylinder models introduced for 2011 bring the price of entry down considerably. A hybrid delivers more performance without a big hit in fuel economy. The Alpina B7 is a wonder of elegance and force. Whether you prefer to drive the ultimate luxury car or luxuriate in the ultimate driving machine, the BMW 7 Series delivers. A vexing interface detracts from a superb line of cars.
NewCarTestDrive.com correspondent Sam Moses reported on the BMW 750iL after his test drive in the Northwest's Columbia River Gorge; with J.P. Vettraino reporting from Detroit; Kirk Bell in Chicago; and John F. Katz in south-central Pennsylvania.