2012 BMW 7 Series Introduction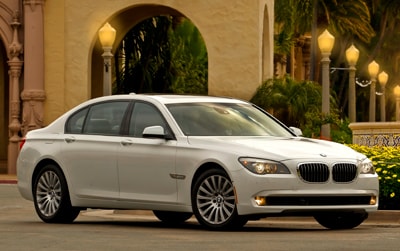 The BMW 7 Series cars are some of the most dynamic and exhilarating large luxury sedans in the world. Completely redesigned for 2009, the fifth-generation 7 Series line expanded considerably for 2011. The 740i and 740Li were the first six-cylinder 7 Series cars since 1992. Also new for 2011 were the ActiveHybrid 750i and 750Li models, combining power with fuel economy. And for those who want even more performance, BMW teamed up with tuner Alpina to offer a new Alpina B7. All-wheel drive is available for stability and traction in wintry conditions.
After all that, changes are limited for 2012. All models now come with an iPod/USB adapter, sport steering wheel and rearview camera; while V8 models get upgraded audio systems and 19-inch wheels. Some option packages have changed.
The 2012 BMW 7 Series sedans comes in standard and long versions, the latter designated by an L in the numeric nomenclature. The BMW 740Li, 750Li and 760Li have a wheelbase that's 5.5 inches longer than that of the 740i and 750i. They're a little harder to parallel park, but they offer a ride that's even more luxurious and have considerably more rear-seat legroom. So the L models are the better choice for buyers who frequently put adults in the back seat. The long-wheelbase cars have their own roofline, and the silhouette is sleek.
Short or long, all BMW 7 Series models have presence wherever they go. The 7 Series body has no transparently gratuitous scoops or scallops, and the car's size and lines clearly say first class.
The 7 Series interior is classy and luxurious, like a richly appointed, roomy cocoon, protecting occupants from an ornery world. Just about every safety, comfort or convenience feature invented for the automobile is available on the 7 Series. Some of the controls and features are overly complicated, however.
Yet dynamic verve is what really distinguishes the BMW 7 Series: a combination of response, acceleration, smooth ride and sharp handling that few large sedans can match. Weight-efficient construction and innovative chassis technology contribute to the lively driving dynamics that many expect from a BMW.
The BMW 750i and 750Li feature a new-generation V8 engine, with direct fuel injection and twin turbocharging. This 4.4-liter V8 makes 400 horsepower and 450 pound-feet of torque, awesome numbers for an engine its size, while using less fuel than its predecessor to get occupants around town. It's matched to a 6-speed automatic transmission. The BMW 760Li ups the ante with a 535-hp V12 and an 8-speed automatic. All 7 Series models come with BMW's Brake Energy Regeneration system, which captures energy lost as the car slows to charge the battery.
All-wheel drive adds all-weather capability to the 750xi and 750Lxi and, in our opinion, does so without ruining the sporty handling characteristics found in the rear-wheel-drive models.
The ActiveHybrid 750i and 750Li employ a mild hybrid powertrain with the same twin-turbocharged 4.4-liter V8 from the 750i, an electric motor, a lithium-ion battery, and an 8-speed automatic transmission. Total output is 455 horsepower and 515 pound-feet of torque. Zero to 60 mph arrives in just 4.7 seconds and fuel economy is improved by 15 percent. Fuel economy is good but not great at an EPA-rated 17 mpg City/24 Highway. That's close but not quite as good as the six-cylinder engine.
The Alpina B7 is likely the closest you'll get to an M7, which isn't offered. During our test drive, we found the Alpina B7 offers sharper handling than that of the superb standard models but it doesn't sacrifice overly in terms of ride quality. The Alpina B7 boasts 500 horsepower from its specially tuned, turbocharged 4.4-liter V8, and it rides on 21-inch wheels.