2012 Buick LaCrosse Introduction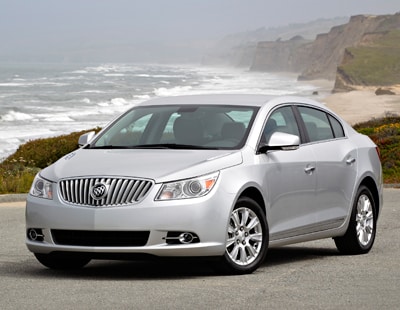 Now in the third year of its current design, the 2012 Buick LaCrosse offers attractive styling, quality materials, a comfortable ride and a bevy of available electronic gadgets. The 2012 LaCrosse comes standard with a four-cylinder engine that uses a small electric motor for improved fuel economy, a system called eAssist. A V6 engine is available with optional all-wheel drive.
Smooth and quiet, the Buick LaCrosse is a nice luxury sedan. Roomy and comfortable, it's larger than the Lexus ES and Lincoln MKZ yet it's easy to maneuver around town. Out on the highway, it glides along quietly. It's smooth but feels taut and stable, with no floating about or wandering.
New for 2012 is Buick LaCrosse eAssist, which uses a 2.4-liter four-cylinder gasoline engine paired with a small electric motor. It's an on-demand system designed for startup acceleration, long uphill grades, highway passing maneuvers, and freeway on-ramps. The electric motor adds about 15 horsepower to the gas engine's 182 horsepower and 172 foot-pounds of torque. In addition, a Start/Stop feature shuts off the engine at intersections, then it seamlessly restarts the engine as the electric motor thrusts you forward. A regenerative braking system recharges the battery when the car is coasting or when the driver hits the brakes. You could call eAssist a mild hybrid. With all this technology going on in the background, the LaCrosse eAssist drives pretty much like a regular luxury car. It comes with a 6-speed automatic transmission.
The 2012 LaCrosse eAssist offers a significant improvement in fuel economy with an EPA rating of 25 mpg City, 36 mpg Highway, 29 mpg Combined. Aerodynamic improvements including automatic shutters in the front grille of the LaCrosse eAssist further highway fuel economy.
2012 LaCrosse V6 models get more power than last year, thanks to a retooled version of Buick's 3.6-liter V6 that now makes 303 hp and 264 lb-ft of torque. The V6 comes on Premium and Touring trim models and is also paired with a 6-speed automatic. All-wheel drive is available. Fuel economy numbers remain virtually unchanged at 17 mpg City, 27 mpg Highway, 21 mpg Combined on front-wheel drive models and 16 mpg City, 26 mpg Highway, 20 mpg Combined with all-wheel drive.
Other changes for 2012 include a revised trim level structure.
Redesigned for the 2010 model year, the Buick LaCrosse midsize sedan still looks contemporary, elegant and refined. The 2012 LaCrosse looks as fresh as the all-new 2012 Buick Verano compact sedan does. It's conservative but not conventional. Buick heritage cues are evident, such as the waterfall front grille and the signature portholes. The result is a fluid exterior design that flows around the vehicle.
The interior has a finely detailed, high-quality character. Sweeping lines, soft-touch materials and genuine stitching define the dash and doors. Chrome and wood trim are used tastefully, and the materials in the headliner and upper parts of the cabin have a premium look and feel. The navigation system features a big display and is easy to operate.
We found the LaCrosse comfortable yet still responsive. Engineers worked to give the LaCrosse a stiff structure for a quiet cabin and a smooth ride. The suspension eats up bumps and ruts in the road, unlike the previous-generation LaCrosse, but it isn't overly floaty. Braking feels confident and able. All of this makes the LaCrosse a compelling choice among premium midsize sedans.
Still, the 2012 Buick LaCrosse has stiff competition including the lauded Hyundai Genesis sedan, the luxurious Lexus ES 350, and the newly refreshed Acura TL. The LaCrosse eAssist model compares with the Lincoln MKZ hybrid and the underwhelming Lexus HS 250h sedan.
With its well executed design, quality materials and solid driving dynamics, the 2012 Buick LaCrosse is a good choice for those looking for a comfortable midsize sedan with several combinations of available features.