2012 Buick Regal Introduction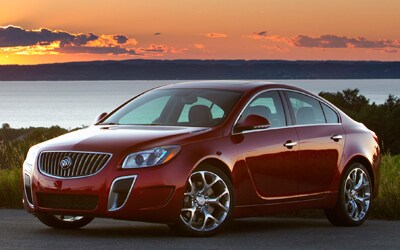 The Buick Regal is a luxury sedan born and built in Germany, and it acts like one. Sportier than the other Buicks, the midsize Regal is smaller than the full-size LaCrosse, larger than the compact Verano. Regal is based on the same structure as the European-market Opel Insignia, which earned major product awards when it was introduced. Though quiet like a Buick, its German underpinnings give the Regal a European handling feel.
Regal was redesigned and introduced as an all-new product for 2011. For 2012, the Regal lineup expands to include a broad range of powertrain choices. The 2012 Regal lineup includes an inexpensive model with a four-cylinder engine, a mild hybrid version of the same car called Regal with eAssist, a sporty Regal Turbo, and a high-performance Regal GS.
The Buick Regal models compete with versions of the Lexus ES, Acura TSX, Volvo S60, Volkswagen Passat, Audi A4, and Mazda 6. The Regal uses front-wheel drive and comes with Stabilitrak electronic stability control and traction control.
The Regal is an attractive car, seemingly blending styling elements from American, European and Japanese designs. We're not sure the optional rear spoiler improves its sleek lines.
A welcome refuge on miserable commutes, the Regal cabin is attractive and comfortable, a mix of sporty and luxury much like an Acura TSX. Secondary controls operate with tactile clicks that feel like quality, and the navigation system is easy to use. Doors close with a solid thud. Bluetooth for hands-free cell phone operation and heated front seats are available, but we were surprised to note the absence of a rearview camera or memory for the seats listed among the options. The back seat is suitable for two but not three.
Underway, the Buick Regal is among the quietest cars in its class. We found it rides smoothly, absorbing bumpy pavement, a benefit of its rigid structure. Its fully independent suspension has been tuned for ride comfort, but it handles well on winding roads, and the steering and brakes are up to spirited driving.
Regal comes standard with a 182-hp 2.4-liter four-cylinder engine and 6-speed automatic. This engine, called Ecotec, delivers 19 mpg City, 31 mpg Highway, according to the Environmental Protection Agency.
With eAssist, Regal earns an EPA-estimated 25/36 mpg City/Highway. Regal with eAssist is equipped with the same 2.4-liter engine along with a traditional 6-speed automatic transmission, and it drives similarly to the standard Regal. The difference with eAssist is that a small, battery-powered 15-kW motor-generator provides extra thrust when accelerating. Buick says this results in a 25-percent improvement in fuel economy, partly because the four-cylinder engine doesn't have to work as hard. To save gas, the engine shuts off whenever the car is stopped and seamlessly restarts it when the driver steps on the accelerator. Like most hybrids, eAssist uses regenerative braking, a system that recharges the battery whenever the driver steps on the brakes. Some call this light-electrification technology a mild hybrid, but there is no all-electric mode and it costs a lot less than a full hybrid gas-electric powertrain.
The sporty Regal Turbo comes with a turbocharged 2.0-liter engine rated at 220 horsepower and 260 pound-feet of torque. Yet in spite of its dramatically increased performance it offers an impressive 20/32 mpg. As if to highlight their sporty role, the turbocharged models only come with 6-speed manual transmissions. (An automatic is expected to be added soon, however.) The Regal Turbo is intended to compete with the Acura TSX, Volvo S60, and Volkswagen CC.
The new Regal GS features a high-output turbocharged engine making 270 horsepower and 290 pound-feet of torque. It's the highest output engine GM has ever made in terms of horsepower per liter. To manage all this power, Regal GS comes a special front suspension that makes steering quicker and sharper, computer-controlled shock absorbers with three selectable ride modes, heavier springs and stabilizer bars, Brembo four-piston front brakes, and a choice of Goodyear GS-A or Pirelli P Zero tires on alloy wheels. Subtle exterior trim differences include a special rear bumper fascia that integrates the dual exhaust tips.
The Regal GS is quicker and more agile than the standard version. The Regal GS can accelerate from 0-60 mph in 6.7 seconds, according to Buick. At the same, the Regal GS earns an EPA rating of 19/27 mpg. The Regal GS is pleasant for everyday driving, the 6-speed manual shifts well. Drivers who like European sports sedans with manual gearboxes will like the 6-speed manual, but we can't help but think most drivers will prefer an automatic with this car.