2012 Buick Verano Introduction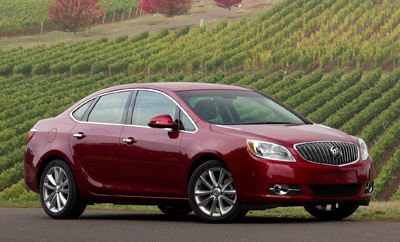 Buick compares the new Buick Verano to the Lexus IS 250 and Audi A3, and you'll get no dubious looks from us. When you consider the Verano costs thousands less, it looks even better. There's a healthy warranty of 4 years and 50,000 miles.
The Verano is a great looking car, with sleek stocky lines. Beautiful in black (Black Onyx), maybe better in chocolate (Mocha Bronze Metallic). It totally pulls off the wedge look, with a short nose, steeply raked windshield, and good character lines. It will be an impressive car to drive around. That's what Buicks have always been, and what they're supposed to be. What's especially impressive about Verano is that it's a compact car. It's six inches longer than the Mazda3, and three inches longer than the Lexus IS 250.
The interior is classy, with a rugged cloth upholstery in the base model and excellent leather especially in a rich brown. Interior shapes are smooth and the trim elegant, especially in satin bronze with brown leather. The center stack is powerful and graceful, bucket seats exceptional, and gauges beautiful.
We were impressed with the sporty character of the Verano. Cornering, transmission, suspension and engine, all aces.
The 2.4-liter Ecotec engine with direct injection and variable valve timing makes 180 horsepower and 172 pound-feet of torque, and that's enough for most situations. It's notably smooth and exceptionally quiet. A new 6-speed automatic transmission reacts appropriately whether you're driving casually or hard on the gas.
The Verano finds that sweet spot between good cornering and comfortable ride, a benefit of its Z-link rear suspension. We found the handling crisp and responsive. The brakes were firm, also.