2012 Chevrolet Corvette Introduction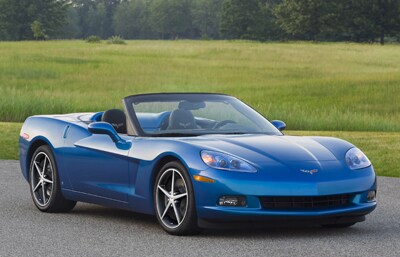 Long prized for its high performance at an attainable price, the Chevrolet Corvette continues to be an object of desire for red-blooded Americans. The Corvette continues to give drivers the best bang for the buck thanks to its supercar performance, relative driving comfort and reasonable maintenance costs.
The current-generation Corvette was launched as a 2005 model and is the sixth generation or C6. The Z06 joined the lineup for 2006. The 2007 model year brought a new engine, the LS3 6.2-liter V8. Every year has brought more refinement. For 2012, there are no major changes but some important minor ones. Among them:
The 2012 Chevrolet Corvette gets a new steering wheel, redesigned seats with larger side bolsters and extra padding in the armrests. New options on all 2012 Corvette models include a nine-speaker Bose sound system. The Performance Traction Management system is now available on the 2012 Corvette Z06. Centennial Special Edition trim, in commemoration of Chevrolet's 100th anniversary, is available on both the Z06 and ZR1 with race-ready accessories, special graphics and other track-ready goodies.
The Chevrolet Corvette continues to offer one of the best power-to-dollar ratios around. The Corvette Coupe, which starts at about the same price as a midsize luxury coupe, is blazingly fast thanks to its 430-horsepower V8. The 6-speed automatic transmission with paddle shifters is geared for performance and responds quickly, but true enthusiasts with prefer to stick with the standard 6-speed manual.
The Corvette Convertible, which, like the Coupe, can blast from 0-60 mph in 4.2 seconds, will satiate drivers who crave an open-air roadster experience.
For performance junkies, the 505-hp Corvette Z06 will exhilarate on the track as well as the street. And for the ultimate expression of gratuitous grunt, there's the insanely fast ZR1, a limited-production iteration that boasts a 6.2-liter supercharged V8 that cranks out 638 horsepower and 604 pound-feet of torque.
When it comes to specs alone, most versions of the Corvette don't have any apples-to-apples competitors. Drivers who want high performance in a more practical package might consider the new 580-hp Chevrolet Camaro ZL1 (with the same engine as the Corvette ZR1). Or perhaps the Dodge Challenger SRT8 or Ford Shelby GT500. Those seeking performance with refinement and luxury should consider the Porsche Cayman or BMW M3. Those who want to put the top down might want to look at the BMW Z4 or Ford Shelby GT 500 convertible. A well-appointed Z06 finds a tough competitor in the Porsche 911, Nissan GT-R or Lotus Evora. And at more than $100,000, those dropping the dough for the ZR1 should also take a look at the new Mercedes-Benz SL-Class, the Audi R8, as well as the refined and well-appointed Jaguar XKR.