2012 Chevrolet Silverado HD Driving Impressions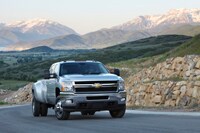 The Vortec 6.0-liter V8 gasoline engine delivers 360 horsepower in 2500-series pickups and 322 hp in most other applications, all on regular-grade gas. Torque is rated at 380 lb-ft for all applications and it peaks at 4200 rpm, so it must downshift a gear or two for grades, and if you plan on towing anything spend the $100 on the 4.10:1 axle ratio; you'll get better performance, often a higher tow limit, and any impact on your fuel economy will be negligible. If you're on a budget, if you don't tow anything more than a job-box trailer or weekend boat, if you don't drive a lot of miles, then the 6.0-liter gasoline engine is the more practical choice. The 6-speed automatic transmission has a Tow/Haul mode, best employed when your truck and trailer combo weigh 75 percent or more of the maximum combined load (GCWR). It also has a thumb-switch with which you can shift up/down manually after moving the selector to M, and a selector position for 1; Ford uses a similar approach while the Ram has only the thumb-switch that does not require moving the selector level first.
The Duramax diesel is a 6.6-liter V8 with 397 hp and 765 lb-ft of torque coupled to an Allison 6-speed automatic transmission. The Duramax and Allison add about $8400 to the bottom line, but the diesel engine more than doubles the torque of the gas engine, the payoff being superior towing ability, better at-altitude performance and better fuel economy: We managed 10 mpg in a dually crew cab pulling an 8000-pound trailer through the interstates of Appalachia, 14.5 with a single-rear truck and much smaller, more aerodynamic box trailer. Over the same stretch, a single-rear-wheel Crew Cab, gas engine, without a trailer averaged 12.2 mpg with the same personnel count on board. Note the diesel does use a DEF (diesel exhaust fluid) additive that must be replenished (usually at service intervals, and available at many service stations and most truck stops); Ford's Power Stroke uses a similar system while the Ram Cummins does not. The Duramax is B20-biodiesel approved.
An HD Silverado drives heavy, as in a solid feel and deliberate control inputs. It is confident empty or with a maximum load on board, the added frame stiffness making suspension tuning easier for GM engineers. We drove a Regular Cab empty over some marginal roads and the ride wasn't punishing at all. On longer cabs a special body mount is used at the back for even better ride quality, but as is always the case the wrong wheelbase on the wrong set of expansion joints can still result in some bobbing; this situation is not unique to GM pickups.
The Silverado HD is not a play truck for cowboy posers, it's designed to work. Everything underneath was changed in 2011 with a focus on doing more work. If you want light controls, quiet, and a smoother ride get a Cadillac Escalade EXT pickup. Standard tires on Silverado 3500 dually are 17-inch Michelins, but 2500-series trucks offer a choice of 18-inch Bridgestone/Firestone or 20-inch Goodyears; our choice for ride, quiet, work, and replacement cost are the 17- or 18-inch wheels and tires.
As the only heavy-duty pickup with independent front suspension on 4WD models, the 4WD Silverado HD and GMC Sierra HD steer with more precision and absorb front-end road impacts better than do the Ram and Super Duty. GM has an adjustable trim height for the torsion bars to adjust ride height for added weight such as a snow plow, but most torsion bar vehicles are adjustable. Any Silverado HD may be equipped with a snow-plow package but we'd check with your dealer about front-end alignment if adding a camper or plow for many miles.
Brakes are all new with bigger vented discs and better pedal feel and reaction than prior years. If you tend to drive quickly note that empty HD pickups don't generally stop any better than those carrying some load on the rear wheels.
Single-rear-wheel models have StabiliTrak electronic stability control. The system includes hill-start assist, which means the truck won't roll backward on an incline if you take your foot off the brake to put it on the gas. Generations of automatic-owners who left-foot brake may not difference.
An integrated trailer brake controller is available to slow your trailer much more comfortably and more controlled than most aftermarket controllers can. Be sure to get it. The diesel has a built-in exhaust brake function (matching Ford and Ram now) and the transmission has grade control logic that will, with cruise control or a tap of the brake pedal, work automatically to maintain or slow your speed. If you push the right buttons the truck will more or less take care of everything else.
A 2.5-inch receiver hitch allows conventional trailer ratings to 18,000 pounds, eclipsing any competitive pickups at post time; the maximum for fifth-wheel trailers on properly equipped Silverado HD models is now 23,000 pounds. The strongest Silverado HD will haul more than 30,000 pounds of truck, cargo, people and trailer. As with virtually all full-size pickup ratings, the HD with the highest payload may not pull the heaviest trailer, and it won't do max load and trailer at the same time.