2012 Chevrolet Silverado HD Introduction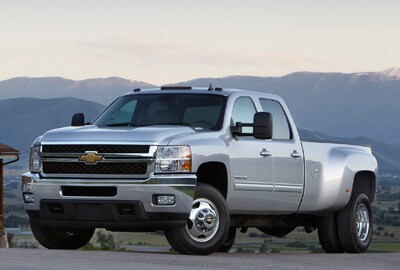 The Chevrolet Silverado HD is the most carlike of the heavy-duty pickups, with a smoother ride, more precise steering, and more carlike interior, yet its capability is on par with the other big trucks. It's downright superior if you ask Chevrolet.
The Chevrolet Silverado HD, Ford Super Duty and Dodge Ram compete every year for weight rating superiority and bragging rights. The 2012 Chevrolet Silverado HD is the current leader: The 2012 Silverado HD has the highest weight ratings of any one-ton 350/3500-series pickup in the U.S. (Ford's F-450 pickup and some medium-duty trucks share pickup cabs but add a pickup box outside the factory.)
With an increased payload rating over the 2011 models, the 2012 Silverado HD can be configured to carry 7,215 pounds in 3500 dual-rear wheel configuration or 4,600 pounds in 2500 single-rear. Properly equipped, a Silverado 3500 can tow a trailer of 23,000 pounds.
Chevrolet Silverado HD was completely redesigned and re-engineered for the 2007 model year. It was substantially revised for 2011 followed by some mid-year updates. Changes for the 2012 model year are minimal. Among them:
The 2012 Chevrolet Silverado HD is available with a new hard-disc drive navigation system. Also new for 2012: colors, wheels, a Z71 Off-Road appearance package (not to confused with the suspension-changing Z71 off-road package). The 2012 Silverado HD LTZ comes with heated/cooled front seats and polished forged aluminum wheels.
The 6.0-liter V8 gas engine and 6-speed automatic are fully capable, but the big towing numbers require the 6.6-liter Duramax diesel with 397 hp and more than twice the torque of the gas V8. Everything in the suspension, steering, brakes, frame and ancillary systems is built to complement the diesel power. As a result, anyone with $40,000 and a driver's license can buy a pickup capable of towing an 11-ton trailer.
Although it's a work truck, the Silverado HD offers conveniences owners may now need as part of their work or their hobby, including Bluetooth, USB inputs, rearview cameras, navigation, and an OnStar.
A choice of interiors is available, with different dashboards rather than merely varied finishes. You can have it sweep-out simple, or served up with heated leather, navigation, and an expensive-looking opaque shade for the moonroof. Regular cabs are roomy enough for three, Extended Cabs are ideal for younger families, while the Crew Cab is suitable for work gangs or full-grown families or lots of interior cargo space.
A well trimmed Silverado HD is the most car-like of big pickups in driving feel, yet it carries and tows as well or better than other heavy-duty pickups. With enough cab, box, trim, powertrain choices and option sheets to fill many pages, there should be an example to fit your needs and preferences. Alternatives are limited to the Ford Super Duty and Ram Heavy Duty pickups, as well as the mechanically identical GMC Sierra HD.
The 2012 Silverado HD offers five wheelbases in 2500 (3/4-ton) trim. It comes as a Regular Cab long bed (8 feet), an Extended Cab with standard bed (6-foot, 7-inch) or long bed, or Crew Cab with standard bed or long bed. The 3500-series (1-ton) is all long-bed except for a 3500 Crew Cab standard bed with single rear wheels. All dual rear wheel models have the long bed. Some models are available with a pickup box delete for mounting an aftermarket setup or your own. Fuel capacities range from 26 to 36 gallons on most versions.
Standard Silverado HD power is a 6.0-liter gasoline V8 rated 360 horsepower and 380 pound-feet of torque in 2500 pickups and 322 hp, 380 lb-ft in all 3500 and box-delete 2500. The 6.0-liter comes solely with a 6-speed automatic transmission and 3.73:1 or 4.10:1 axle ratio.
A 6.6-liter diesel (LML) is an option ($8395) for nearly every model and rated at 397 hp and 765 lb-ft of torque. The diesel comes with the superb Allison 6-speed automatic transmission and 3.73:1 ratio. A 6.6-liter diesel (LGH) is rated at 335 hp and 685 lb-ft and offered only on box-delete trucks. Both diesels are B20-biodiesel approved.
Three trim levels are available, WT, LT and LTZ, though not every configuration is available. LTZ is limited to Extended and Crew Cab models. Expect to add $2,000-$3,000 to move from regular cab to Extended or Extended to Crew Cab, about $200 from standard bed to long bed, and about $3,000 for 4WD.