2012 Chevrolet Silverado Driving Impressions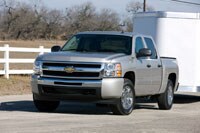 Suspension choice is key to the driving characteristics of the Chevy Silverado. The basic Z83 suspension is best chosen for budget constraints (or if you plan to make modifications and throw away the stock parts).
The Z85 is similar except that it uses better shock absorbers and is calibrated for how today's light-duty pickups are often used as daily transportation.
The Z71 package is designed for off-highway use and makes maximum use of suspension travel to keep the wheels on the ground when on the trail or dirt roads; this off-road package frequently provides the best ride quality on anything worse than glass-smooth interstates.
The Z60 street package replete with 20-inch wheels and low-profile tires is best used for the highway and smooth two-lanes but can be used on a dirt road.
The NHT package is designed for maximum loads; ride compliance is good based on how much weight it can carry and tow, but driving it around empty may be firmer (harsher) than you want for everyday use.
The Silverado benefits from good brakes. Drivers who tow will appreciate the optional integrated brake controller like that used on the Silverado heavy-duty trucks. (However, be sure your trailer brakes are compatible with it before choosing the option, as some electro-hydraulic disc conversions do not work with the integrated controller.)
Towing capacities range as high as 10,700 pounds with the NHT package. Maximum tow ratings for other models are in the 9,100-10,000 pound range (Hybrid excepted). If your trailer is heavier than 6,000 pounds or so, we'd recommend looking at the heavy-duty Silverado HD models. Remember these trailer weights are usually quoted for an empty truck with a standard-size driver on board. If you're hauling a lot of gear and people, you need to take that into consideration.
If you want the 15/22 mpg EPA ratings of the XFE on a regular Silverado or need higher towing capacity, minor changes to driving style will routinely net the same (or better) economy increase.
Those with limited vertical clearance either at home or in commercial garages should note that the 4WD versions of the Silverado 1500 Extended Cab and Crew Cab models are fractionally lower at the roof and loading level than the 2WD versions. Some pickup trucks add two to three inches in height for 4WD, and those inches could be critical in tight fits.