2012 Chevrolet Silverado Introduction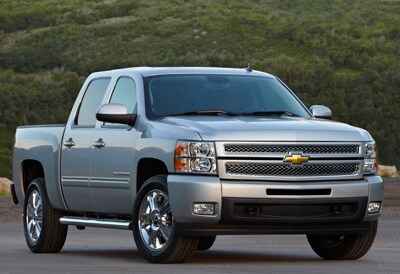 Chevrolet Silverado offers a smooth ride and confident handling while delivering excellent capability and power. No question, the Silverado is a great truck. The 2012 Chevy Silverado doesn't boast the latest design, but all the current full-size pickups are good and it mostly comes down to preference. Silverado is available in a wide range of sizes, engines, and capabilities. The hardest part is choosing the model and configuration, which must be done carefully to best meet your needs and wants.
The 2012 Chevrolet Silverado gets few changes from last year's models. Most important: StabiliTrak electronic stability control adds trailer sway control and hill-start assist. 2012 Chevy Silverado WT models now come standard with cruise control and a spare tire lock. Heated and cooled front seats and HDD navigation with XM radio and USB are available on the 2012 Silverado LTZ. 2012 Silverado models get new colors and chrome trim changes. Silverado was last redesigned for 2007.
The base engine is a 4.3-liter V6 (195 hp/260 lb-ft of torque) with a 4-speed automatic, offered only on Regular Cabs and 2WD Extended Cab models with the standard bed. The 4.8-liter V8 (302 hp/305 lb-ft of torque) and 4-speed automatic are standard on Crew Cab and 4WD Extended Cab models with the standard bed, and on many LT models.
The 5.3-liter V8 (315 hp/338 lb-ft of torque, or 326 hp/348 lb-ft of torque on E85), with active fuel management that shuts off cylinders to save fuel, and iron or aluminum block, is standard on most LTZ models and is matched with a 6-speed automatic.
The top engine is a 6.2-liter V8 (403 hp/417 lb-ft of torque) available on Extended Cab and Crew Cab models; it uses the 6-speed automatic.
Silverado XFE (eXtra Fuel Economy) models use a 5.3-liter V8, 6-speed automatic and cruising-biased axle ratio of 3.08:1 to increase EPA ratings. XFE versions feature aerodynamic upgrades in the form of a soft bed cover and extended front air dam, plus aluminum wheels (including the spare) and lower front suspension arms, locking rear differential, and low rolling resistance tires. A trailering package is standard so XFE models can tow up to 7,000 pounds.
Silverado Hybrid, available only in the Crew Cab body style and tow trim levels, uses a 6.0-liter V8 (332 hp/367 lb-ft of torque), battery pack, and 4-speed automatic with two electric motors in it. EPA ratings are 20/23 mpg. Tow ratings are available to 6100 pounds, and maximum payload is in the 1,400-pound range.