2012 Chevrolet Silverado Walk Around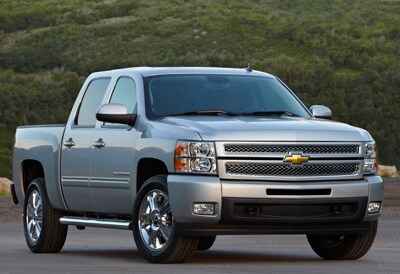 The Chevy Silverado may not have the aggressive styling of some other pickups, but its upright design may be considered appealing to its faithful customers, and they buy hundreds of thousands of Silverados each year. We think it's quite attractive.
A raked windshield (angled at 57 degrees) and careful aerodynamic and body-building engineering make the truck quiet on the inside and contribute to fuel efficiency. GM boasts that the Silverado and GMC Sierra were the first full-size trucks to offer both 300 horsepower and EPA highway ratings of 20 miles per gallon or better.
The large, gold Chevy bowtie badge is set against a wide, three-bar chrome grille. The grille is flanked by stacked headlights sporting the latest reflector optics. The front bumper incorporates rectangular fog lights.
The hood has a wide power dome. Bulging front fenders wrap over the front wheels and incorporate the headlights within their forward sweep. Likewise, the rear quarter panels are punctuated by large faired wheel wells.
The rear view of the truck features stacked tail lights on either side of a tall tailgate that has a sculpted center section that mimics and inverts the shape of the fender flares.
Built on what General Motors calls its GMT900 platform, the Silverado shares much of its underpinnings with the Tahoe SUV, though the pickup gets a unique rear suspension and a frame section 245-percent stiffer than that of the SUV. The current Silverado chassis is far more rigid than that of the previous generation, which allowed the engineers to reduce the gaps between the truck bed and passenger compartment and between fenders and bumpers. This stiffer frame also allows suspension components to be designed for improved ride and handling characteristics as well as allowing enhanced aerodynamics and fuel efficiency.
The front suspension uses coil-over shock absorbers and the rack-and-pinion steering gear design provides enhanced control and feedback. The Silverado benefits from a rear axle design featuring shock absorbers mounted outboard and more upright for better dynamic control than that of the previous-generation models.
Interior
The Silverado WT, LS and LT come with what Chevrolet calls the pure pickup interior while the LTZ features a more luxurious interior.
The pure pickup interior is more driver and work oriented, includes two glove boxes in the dashboard, one of them just about the right size to hold a pair of work gloves and a few small items, and a 40/20/40-split front bench seat with the center section of the seat back folding down to form a wide arm rest with lots of storage capacity. This interior features large switchgear controls and interior door handles designed to be easily manipulated even while wearing bulky gloves.
The more luxury-oriented interior includes bucket seats with a permanent center console with 20 liters of storage capacity. The center stack puts ventilation and audio controls within easy site and reach of the front seat passenger. This version has a single glove box in the dash.
Headlights are more or less controlled by twisting a rotary knob on the dash to the left of the steering wheel. An identical knob to the right is used to switch between 2WD and 4WD. We found it's easy to switch to 4WD, while trying to switch off the headlights.
XM Satellite Radio with current traffic conditions and Bluetooth may be ordered, or alternately, OnStar with destination download and turn-by-turn navigation. We like both.
Extended Cab models feature stadium-style seating with an elevated view for those sitting in the second row. Both the Extended Cab and Crew Cab versions offer plenty of rear legroom. The rear-seat bottoms can be easily folded up to provide more room on the floor for cargo. Rear seats are split 60/40 so one side can be folded up for cargo while the other is used for seating.
Chevrolet says the interior of the Silverado is 20 percent quieter than its predecessor (pre-2007 and Silverado Classic models), thanks to enhanced insulation materials, much like those used in the company's sport utility vehicles, and to aerodynamic improvements that reduce wind noise.
Choosing the right cabin configuration depends on how you expect to use the truck and what you expect from it.
An LTZ interior mirrors those of GM's full-size sport-utilities and is modeled more like a big touring sedan than a truck. It's a smooth, cohesive design with a central console that rises to a wall of smallish white-on-black buttons you can't operate with mittens like those on the pure pickup. The navigation system is up high for good viewing, intuitive in operation, and offers many choices in radio station memory. The LTZ cabin is available in three interior colors and, though it will show dirt faster, the lightest color gives the most luxurious impression.
The WT/LT version is a conventional truck with a more open floor area, space for random stuff all over, and no concerns that something might get scratched, scuffed or dirty. Modern electronics suggest hosing out a truck interior isn't a good idea anymore, but a shovel and stiff bristle brush should get it done.