2012 Chevrolet Suburban Driving Impressions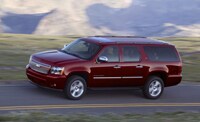 The Suburban 1500 engines are rated at 320 horsepower at 5200 rpm and 335 pound-feet of torque at 4000 rpm. All Suburban engines have a fuel shut-off feature, called Active Fuel Management, that cuts fuel to half the cylinders when full power is not needed. This will be most noticed on level ground at moderate, steady speeds. You won't notice when it changes back and forth, because it's very smooth. And it delivers big benefits in fuel economy.
The Suburban 2500 uses a 6.0-liter engine of 352 horsepower. Like the others it features a Tow/Haul mode for less shift busyness over rolling terrain and a bit of compression braking.
The 6-speed automatic transmission pays benefits in performance, fuel economy, noise, and control, whether towing or not. With low gears that make it easy to get going, high gears that keep engine speed to a minimum on the highway, and more gears in the middle so you can tow uphill without screaming along in second gear, the 6-speed is a very nice feature.
The shifter has PRNDML positions and a thumb-operated rocker switch for changing gears manually. However, you first have to move the entire lever to the M position. Or you can move it to D and leave it shift itself.
All Suburbans have four-wheel antilock disc brakes and StabiliTrak electronic stability control. Like any vehicle with ABS, press the brake pedal as hard as you can and steer and disregard any buzzing noises or vibration; that means it's working and is your best way to avoid an obstacle or accident.
Guiding a Suburban is effortless, the steering nicely weighted and direct by truck standards. At 18.5 feet long and 6.6 wide the Suburban isn't ideal for congested areas but it's quite maneuverable for its size; it needs 43 feet of road to make a U-turn (45.3 for the 2500), but that's just a yard more than some two-seaters and small sedans. So, it's pretty good, in other words. And because of its boxy shape the corners are reasonably well defined; available rearview cameras and park sensors make it easier to parallel park but it won't drop right in. An available blind spot alert system adds a warning if you didn't see the vehicle next to you; like all such systems it focuses on your car and not what might be next to any trailer you're towing.
The Suburban's 130-inch wheelbase and nearly three-ton weight contribute to a good ride quality, one of the best for any vehicle with a solid rear axle. Some competitors have independent rear suspensions that enjoy an advantage on rough roads and for spirited driving. Some people believe you must have a solid rear axle for towing and they are a bit easier to maintain, but extreme-duty vehicles like the Humvee and Mercedes Unimog successfully used independent rear suspensions. In any case, the Suburban has the traditional setup for towing.
Autoride suspension is standard on LTZ. It monitors the road surface and driver inputs and adjusts damping as needed, optimizing the blend of ride comfort and handling grip, and also limits body roll in heavy cornering. The self-leveling rear suspension aspect of Autoride might help while towing but it is no substitute for a proper weight-distributing hitch.
The 2500 Suburban has a different feel than the 1500 but drives through the same controls. Since it is designed for heavier use, carries about 600-900 pounds more and tows about 1500 pounds more, the bits underneath are more truck-like. It has a much stronger rear axle with a shorter ratio, Chevrolet wisely thinking 2500 owners will prioritize towing performance over empty highway fuel economy. The rear suspension uses leaf springs rather than the 1500's coil springs.
All these parts add weight so the 2500 rides a little bit firmer and isn't as quick to turn as the 1500, but it is still a very competent chassis and at full load feels like it rides and handles at least as well as a loaded 1500. Were we regularly towing 6,000 pounds, or 5,000 with the family and gear onboard, we'd opt for the 2500 and its stouter running gear. We suspect the 2500 will feel more stable than a 1500 when pulling a 5,000-pound trailer.
The leaf spring rear-end on the 2500 allows a significant increase in fuel capacity, from 31.5 gallons on the 1500 to 39.0 on the 2500, meaning the 2500 will travel farther between fill-ups of weaving your trailer through gas stations.
By default all Suburbans are set up for towing, but for larger loads, such as anything more than a twin-axle bass boat trailer, consider opting for the trailer towing package (more engine oil and transmission fluid cooling), larger outside mirrors; and for the integrated trailer brake controller as well. (Note that the controller may not work with electro-hydraulic trailer brakes as on some higher-end RVs; so consult your dealer.) A Suburban with this tow package is a fine tow vehicle, indeed. We've done major cross country tows over frozen highways and the Suburban performs admirably in this type of duty.