2012 Chevrolet Suburban Introduction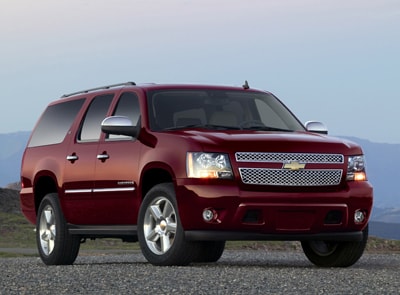 The Chevrolet Suburban can tow a sizable trailer. It can safely transport up to nine passengers. And, equipped with genuine four-wheel drive, it can haul a load of cargo over primitive roads. It's an adept workhorse and arguably the best SUV you can get for towing trailers. Launched during the Great Depression in 1936, the Suburban was last completely redesigned for the 2007 model year.
The Suburban can hold 137 cubic feet of cargo, or up to nine passengers and 45 cubic feet of cargo, or myriad combinations in between. Two weight classes are offered, the normal 1500 and the heavy-duty 2500. The 2500 is a good choice for towing trailers.
The Suburban is available with two-wheel drive or four-wheel drive. The 1500 and 2500 are available in LS and LT trim levels, and the 1500 is also available in a more luxury-oriented LTZ trim level.
Suburban 1500 models come with a 5.3-liter V8 engine of 320 horsepower, 335 pound-feet of torque and a 6-speed automatic transmission. The engines in 1500 models with two-wheel drive have an iron block, while models with four-wheel drive have an aluminum block; both versions have aluminum heads. Fuel economy for a Suburban 1500 is an EPA-estimated 15/21 mpg City/Highway.
Suburban 2500 models get a 6.0-liter V8 with aluminum block and heads and variable valve timing rated at 352 horsepower and 382 pound-feet of torque. It also comes with a 6-speed automatic. Suburban 2500 4WD is rated at a woeful 10/15 mpg. Sadly, a diesel engine is not available.
The Suburban 2500 uses a different transmission, steering gear, brake parts, suspension, alternator, wheels, tires, axles and fuel tank than the 1500 series. The primary reason for selecting the 2500 over the 1500 is for its greater towing capacity. A Suburban 2500 4WD is rated to tow up to 9,400 pounds, or 9,600 pounds with 2WD. A Suburban 1500 4WD is rated to tow up to 8,000 pounds.
All engines are E85-compatible, which means they will run on 85-percent ethanol fuel, and all have Active Fuel Management (AFM) which switches off half the cylinders when the additional power or idle smoothness isn't needed. Fuel economy with E85 is a dismal 11/16 mpg for the Suburban 1500, however. The EPA hasn't published E85 fuel economy for the Suburban 2500, perhaps because it involves single-digit numbers.
Changes for 2012 are relatively minor. A new hard-drive navigation system, integrated into an AM/FM/XM/CD stereo, includes a USB port, time-shift recording capability, and the hardware for SiriusXM Weather Service. The standard StabiliTrak stability control system now includes electronic trailer sway control and hill start assist. Mid-range LT models get heated seats as standard equipment; and flagship LTZ's get a heated as well as leather-wrapped steering wheel, and side blind zone alert.