2012 Chrysler 200 Driving Impressions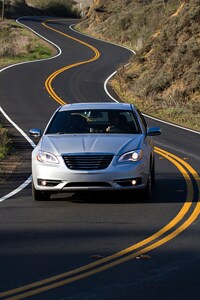 The standard powerplant for the Chrysler 200 is the 173-horsepower, 2.4-liter World engine that Chrysler shares with Mitsubishi and Hyundai. With dual variable valve timing, the power is good at both low and high rpm, and its 166 foot-pounds of torque are sufficient for the demands of its owners. The engine has proven itself reliable, over the years around the world, while delivering good gas mileage.
Fuel economy is an EPA-rated 20/31 mpg City/Highway with the 2.4-liter four-cylinder with 6-speed automatic transmission in a Chrysler 200 Touring sedan. That's about what we got during a week of good seat time in the Northwest.
Later, we drove a convertible with the top down on a hot summer day near Seattle, at the event called Run to the Sun by the Northwest Automotive Press Association, and it was a blast. This is the kind of car you can simply enjoy, because there are no worries. It's about what a car like this gives you, not what it is or how impressive it is.
Still, we were way impressed by how smooth and solid the 200 feels. It's put together well. Low road noise contributed a lot to this conclusion, with quiet-running Michelin tires and a retuned exhaust system.
Same with the steering and ride: smooth and solid, even the convertible. The Chrysler 200 corners really well, with little body roll.
The 6-speed manual automatic transmission is beautiful, seamless and not over-programmed. Chrysler calls it AutoStick, a name they've been using for 15 years, because they invented it. That's right, the manual automatic transmission first appeared in the 1997 Chrysler Cirrus Sebring, when it was perfectly programmed; that is, it did nothing without the driver's input. (We might add that its 2.5-liter V6 made less horsepower than today's four-cylinder, and cost more in today's dollars.) The 6-speed automatic is a good reason to step up from the base model, which comes with a 4-speed automatic.
We also got good seat time in a Chrysler 200 Limited, with the 3.6-liter Pentastar V6 that's been around two years and continues to get rave reviews.
The V6 makes a 283 horsepower and 260 foot-pounds of torque, coupled to a 6-speed manual automatic. At highway cruising speeds, there is some wind and tire noise (the price you pay for more aggressive tires), but it's not objectionable.
Using third and fourth gears on the mountain two-lanes, it showed off its class-leading power and acceleration. According to Chrysler, the engine makes more than 90 percent of its peak torque from 1600 rpm all the way up to redline 6400, and our mountain driving supports that, as we had plenty of torque and acceleration coming off slow corners. The engine has a nice, powerful growl when it's working, and you can't hear it when it's not.
The V6 gives up very little to the I4 in fuel mileage, with a strong EPA rating of 19 city/29 highway miles per gallon.