2012 Chrysler 200 Introduction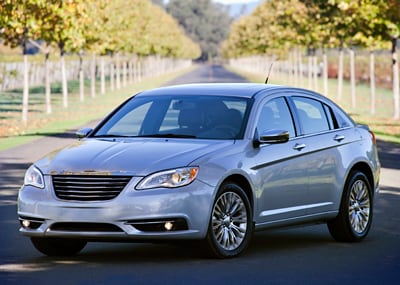 The 2012 Chrysler 200 offers a lot for an affordable midsize car. Redesigned and introduced as a 2011 model, the Chrysler 200 comes in sedan and convertible versions, with a choice between two excellent engines, each with a sweet 6-speed manual-automatic transmission.
We found the Chrysler 200 offers good gas mileage, a smooth ride, a solid feel, a quiet cabin and, surprisingly, tight handling.
Because the Chrysler 200 was new for 2011, there are no mechanical, exterior or interior changes for 2012. However, however there is a new model.
A new 2012 Chrysler 200 S joins the LX, Touring and Limited models. Essentially a loaded Chrysler 200 Limited, the Chrysler 200 S comes standard with the 3.6-liter Pentastar V6. Industry watchdog Ward's Automotive named that V6 one of the "10 Best Engines" for 2012.
The V6, optional for the Chrysler 200 Touring and Limited models, standard in the 200 S, makes 283 horsepower and 270 foot-pounds of torque. Even with 110 more horsepower, it gives up little in fuel economy to the four-cylinder, with an EPA-estimated 19/29 mpg City/Highway.
The Chrysler 200 LX, Touring and Limited models come standard with the 2.4-liter World engine that Chrysler shares with Mitsubishi and Hyundai. Rated at 173 horsepower and 166 foot-pounds of torque at 4400 rpm, it's a double-overhead-cam 16-valve four-cylinder engine with variable valve timing that gives it good power at both low and high rpm. Chrysler 200's 2.4-liter four-cylinder is EPA rated at 20/31 mpg City/Highway.
As its name indicates, the Chrysler 200 falls under the Chrysler 300 in size and price. The front-wheel-drive Chrysler 200 competes with the Ford Fusion, Chevrolet Malibu, Nissan Altima, Toyota Camry, and possibly the Lexus ES and Lincoln MKZ. Midsize sedans comprise America's largest market segment for cars, with 1.7 million units sold per year. The Chrysler 200 has an old-school feel all its own that separates it from these other cars.
The Chrysler 200 replaced the much-maligned Chrysler Sebring. It uses the same platform as the Sebring, but engineers changed and strengthened so many things (chassis, engine, transmissions, suspension, brakes, body, interior) that it was almost a new car. It's impressive work, especially considering the changes were made in 12 months, and during a bankruptcy.
If you compare the Chrysler 200 to the old Sebring, you can stretch and call it sleek; it's clearly wider and lower, not to mention prettier. It's not a car that gathers second looks, but its buyers aren't people who care about second looks. They want the most metal for their money, the most affordable size and convenience, and the Chrysler 200 offers that. It's American, well-equipped and inexpensive. Popular options are bargain-priced, among them a cold weather package and media center with touchscreen and 30g music hard drive.
The cabin is one of the quietest in the segment, thanks to new sound absorption materials, as well as an acoustic glass windshield, laminated side glass usually found in higher priced vehicles, and special engine mounting for the I4 engine. The interior offers luxury, with soft seat coverings and trim, and supportive seats. The instrument panel's gray-on-gray graphics are pleasing, and its white accent lighting is wonderful at night, with nice ambient cockpit lighting.
Underway, we were quite impressed by how smooth and solid the 200 feels. It's put together well. Low road noise means a lot, and the quiet Michelin tires and new exhaust system help. Steering and ride are the same smooth and solid, even the convertible, which we drove in Seattle.
The 6-speed manual automatic transmission that comes on Touring, Limited and S models is seamless and not over-programmed. Chrysler calls it AutoStick, a name they've been using for 15 years, because they invented it, and they remain true to its blissful simplicity. A 4-speed automatic comes on the base LX model.
The 200 comes with Chrysler's longstanding 5-year 100,000-mile powertrain warranty.