2012 Chrysler 200 Walk Around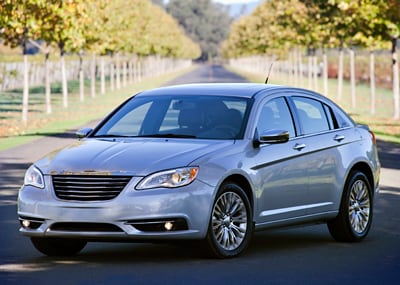 The Chrysler 200 bears family resemblance to the Town and Country, the minivan sharing visual cues in the grille, headlamps, air intakes and front bumper. The Chrysler 200 front air dam is clean: low, thin, and horizontal. Its halogen headlights appear small from head-on, but flow around the front corners into the bulging fenders, creating a line that widens to the rear of the car. It makes a statement that says, We're bold not fancy. We got slab sides. So what? We like them.
If you compare the 200 to the old Sebring, you can stretch and call it sleek; it's clearly lower and wider. The main thing about the 200 is that it's big, for a midsize car, and it's American (also that it's well-equipped and inexpensive).
The rear deck lid looks chopped, with a chrome strip between LED taillamps and another chrome bar between the exhaust outlets that widens the look of the car. It bears a wing logo in brushed metal and blue, replacing the old traditional wing logo, to signify the rebirth of Chrysler.
The Chrysler 200 is not a car that gathers second looks, at least not for its beauty. But its buyers are not the type of people who care about second looks. They want the most metal for their money, the most affordable size and luxury, and the 200 offers that.
Interior
The Chrysler 200 cabin is nice, with seat coverings and trim that feel soft and luxurious. The seats feel supportive and should be comfortable for long periods behind the wheel.
Rear legroom measures just 36.2 inches, which is on the short side for a midsize car. Toyota Camry offers 38.3 inches of rear legroom while Ford Fusion has 37.1 inches, although the Chrysler beats the Lexus ES, at 35.9. The rear seat is split 60/40 and folds down for more cargo space, always appreciated.
The instrument panel contains the usual three round gauges, with gray-on-gray graphics that are pleasing to the eye, while its white accent lighting is wonderful at night. The three-spoke steering wheel has a thick leather-wrapped rim and padded hub with controls for the sound system and cruise setting. Armrests are soft, and door pockets roomy. Some models have two USB ports, handy for phone and laptop charging.
The cabin is one of the quietest in the segment, thanks to new sound absorption materials, as well as an acoustic glass windshield, laminated side glass usually found in higher priced vehicles, and new engine mounting for the 2.4-liter engine.