2012 Chrysler 300 Introduction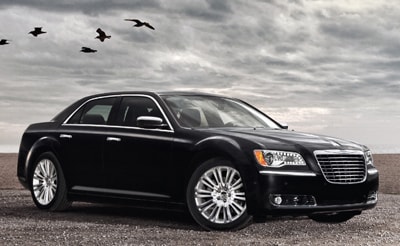 The Chrysler 300 is a full-size four-door sedan that comes in a variety of models to suit a style, performance, or set of features. Whether V6 or V8 and regardless of model it's a roomy, comfortable, quiet cruiser. Apart from its relative the Dodge Charger, the Chrysler 300 is the only rear-wheel-drive sedan we can think of that you can get for less than $35,000.
Thoroughly revamped and restyled for 2011, the 2012 Chrysler 300 nonetheless gets some revisions. Some new models have joined the lineup for 2012: a stylish Chrysler 300S, the new Chrysler 300C Luxury Series, and a new Chrysler 300 SRT8 super-sedan.
The Chrysler 300S is a sportier 300, with 20-inch wheels and firmer suspension.
2012 Chrysler 300 V6 models offer a new 8-speed automatic transmission from ZF that makes the Hemi V8-powered car nearly irrelevant. With this new transmission, the V6 gets an EPA-estimated 31 mpg Highway.
A new, optional navigation system is the best we've ever seen, with a large, 8.4-inch screen that's easily understood at a glance and easy to operate. We highly recommend opting for it. Also new for 2012 are the usual assortment of color and wheel design upgrades, and not one but new sound system upgrades.
The Chrysler 300 has all the heritage traits of an American luxury sedan such as room, comfort, endless features and amenities, power and a degree of presence, yet is also has good road manners, stops and changes directions as well as it goes. It also has a distinctive look ever harder to find in this era of economy-driven aerodynamics, pedestrian impact standards and corporate styling.
All-wheel drive is available. The ride height on 2012 Chrysler 300 AWD models is slightly lower than on 2011 models.
The Chrysler 300 comes in nearly any combination of V6 or V8 engine, 5- or 8-speed automatic, and rear- or all-wheel drive.
The 2012 Chrysler 300 SRT8 model comes packed with a 470-hp 6.4-liter V8 (only a Corvette ZO6's is larger), Brembo brakes, forged alloy wheels, and Bilstein adaptive dampers similar to those Maserati uses. It's quick and good bang for the buck.
Consideration for the Chrysler 300 covers a wide spectrum including the Cadillac CTS, Lincoln MKS, Lexus GS, Infiniti M, Hyundai Genesis, Volvo S60, BMW 3 Series by price or 5 Series by size, and Mercedes C and E classes for the same criteria. A 300C AWD can compete with Ford's Taurus SHO.
At about $47,000, the SRT8 is a cost-effective sports sedan alternative to Cadillac's CTS-V, BMW's M-cars and Mercedes-Benz's AMG E-Class. A Hyundai Genesis R-Spec is near identically priced but we don't find it a performance match.