2012 Dodge Avenger Introduction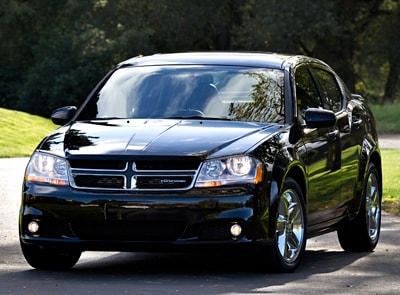 The Dodge Avenger is an honest, straightforward sedan at a good price. In certain respects it's less sophisticated than some competitors, but it's powerful, comfortable and reasonably economical to operate. It's also quiet and pleasant to drive.
A thorough update for the 2011 model year made the Avenger much more competitive in key areas. For 2012, the Avenger model line-up has been revised, replacing super-hero sounding names with five simple alpha-numeric designations, and making prices even more attractive.
Dodge calls Avenger America's most affordable mid-size sedan, and based on current retail prices, we can't disagree. Yet the Avenger isn't just selling price. Both the base four-cylinder engine and the upgrade V6 deliver excellent power and competitive mileage ratings. We might call it a mid-size package with compact value.
Avenger has been styled as a smaller version of Dodge's hot-selling, full-size Charger. It's clean, tightly creased and not bad looking, but it doesn't stand out in any particular way, and certainly not like the Charger. Its basic visual impact is retrograde, and that could appeal to some mid-size buyers.
The Dodge Avenger cabin contributes to a relaxing, pleasant driving experience. The quality of the interior materials isn't the best in the class, but the Avenger is comfortable and the controls are intuitive and easy to use.
The Avenger SE retails for hundreds of dollars less than the next competitive mid-size sedan, and it comes well equipped. Its 2.4-liter, 173-horsepower four-cylinder is strong and smooth, with acceleration performance that's better than adequate. With the 4-speed automatic transmission, the Avenger SE is EPA-rated at 21/30 mpg City/Highway. Avenger SXT models come with more equipment and the 6-speed automatic with the four-cylinder, increasing the EPA Highway rating to 31, for mileage ratings of 20/31 mpg.
New for 2012, Avenger SE V6 upgrades with a 283-hp, 3.6-liter V6 and a 6-speed automatic. It's thousands less than other mid-size V6s, yet it's the most powerful V6 in its class. EPA ratings are 19/29 mpg.
Avenger R/T comes with the V6, a sports suspension and racy stripes and interior treatment. We might call it a contemporary muscle car. Loaded with navigation and the Boston Acoustics audio upgrade, an Avenger R/T we tested barely cracked $27,000.
The Avenger chassis is shared with the Chrysler Sebring, which was designed to be a convertible as well as a sedan, so the chassis is stiff and strong. You'll feel the tightness in both the cabin and handling. Dodge aced the suspension, and both ride quality and cornering response are excellent, benefits of that rigid chassis. The fine balance of comfort and handling contribute significantly to Avenger's appeal.
This mid-size has earned the Insurance Institute for Highway Safety (IIHS) Top Safety Pick award. Avenger comes standard with six airbags, electronic stability control and anti-lock brakes.