2012 Dodge Charger Driving Impressions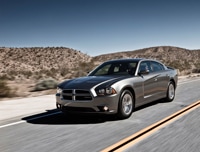 The stark four-letter badges on the car's sides say, Hemi. Not a lot more need be said. This is a serious American V8, with torque and horsepower enough to pin you back in your seat or, just as surely, enough poise to potter along as complacently as you like.
And because this is a fully self-confident powerplant, Dodge sees no need to hype it with a sudden, falsely energetic throttle pedal. Throttle response is immediate and proportional, allowing smooth, forceful acceleration.
Dodge's Fuel-Saver Technology cancels four cylinders when they aren't needed, also eliminating needless fuel flow when decelerating. In our test car, EPA-rated City fuel mileage, at 15 mpg, is as meager as would be expected in a big V8. But the Charger's 23 mpg Highway fuel consumption is good, considering that this is nearly six liter's worth of Hemi.
All-wheel drive is always a useful thing to have aboard, delivering massively better traction and dynamic balance in almost any driving. And the minute you begin driving the Charger R/T Plus AWD, it's clear that this car is a complete break from the Dodges of decades ago.
Yet despite our R/T Plus AWD having only Normal Duty suspension, the car proved a remarkably stable, grippy driver. There was only moderate lean, squat or dive during cornering, acceleration or braking. Pushed hard on dry pavement, the all-wheel drive always gives you just a little more cornering grip than you expect.
Ride quality is very good, and the car's solid structure soaks up road surface irregularities with ease. Yet as relatively compliant as the ride is, steering is lively and communicative, keeping you in direct touch with the road. The thick, sturdy leather-wrapped steering wheel underscores the well-developed solidity of the car. With its variable-assist electronic steering, the driver is encouraged to think of this Charger as not nearly as large and cumbersome as outward appearances may suggest. Despite its dimensions, this is a crisp, sporty muscle sedan. It incites confidence and enjoyable driving.
Braking performance is exemplary. The R/T Road & Track model boasts bigger, more forceful Brembo disc brakes, good for reducing fade when driving on a race track and repeatedly hammering the brakes. The R/T Plus AWD Package includes 13.6-inch vented front discs and 12.6-inch vented rear discs. (In non-AWD R/T Plus models, the front and rear brake rotors are both 12.6 inches.) The 13.6-inch brakes provided massive, balanced non-skid stopping power, especially in combination with the multiple electronic brake-assist technologies of rain brake support, ready alert braking, electronic stability control, all-speed traction control and hill-start assist.
The Charger SRT8 can accelerate from 0-60 mph in the high 4-second range and can cover the standing quarter-mile in the high 12-second range. Top speed is 175 mph, according to Dodge. The SRT8 can brake from 60-0 mph in 120 feet.