2012 Dodge Charger Introduction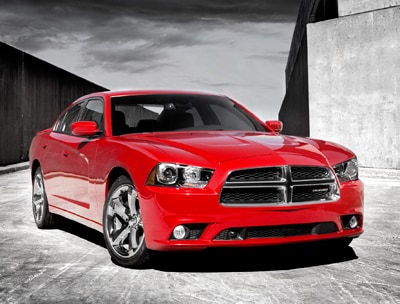 It's as if nobody told Dodge about American cars: that they are cheap, flimsy, incompetent. To the contrary, the Dodge Charger is a proudly American muscle sedan, pumped, powerful, and full of swagger. Furnished with either rear-wheel drive or all-wheel drive, and a Dodge Hemi V8 if that's your inclination, this is a roomy five-place hauler that takes you straight back to the wildly optimistic American sedans of the '60s, but with a difference.
This latest version of the American full-size sedan is engineered, styled, and manufactured to go toe to toe with the best competing models the world market has to offer. Without effort, it meets that challenge and welcomes the battle. The Charger is proof that American carmakers have learned that they can no longer market shoddy design and haphazard assembly. To that end, the Dodge Charger is a proud product of the new Detroit. It's handsomely designed and has world-class fit and finish. From crankshaft to door handles, everything operates with fine precision and the promise of long-lasting service.
The Dodge Charger was redesigned for the 2011 model year, and there are no significant changes for the 2012 Charger except that a new 2012 Dodge Charger SRT8 has been added to the model lineup. The 2012 Charger is the second year of the second generation of the modern Charger. The first generation ran 2006-2010. The original was launched as a '66. The General Lee Bo and Luke Duke drove was a '69.
From the outside, this second-generation Charger looks a lot like an older rendering of the American sedan, but that appearance is misleading. The retro look is a self-confident exercise in sinuous American styling.
The interior, however, is anything but old style. It's richly furnished with cutting-edge conveniences, advanced technology and the no-nonsense functionalism buyers demand. A first-rate, 8.4-inch touch-screen navigation system is coupled with a rearview camera and ancillary controls for climate and audio. The latest navigation system is sensationally intuitive, transparent, and pleasing to use, among the best we've seen. It's very easy to read and very easy to understand. Underscoring this user-friendliness, the Charger's audio controls for volume and tuning are accomplished with old-fashioned, practical radial knobs: What a concept! And following through, each of these knobs is furnished with a nice rubber feel as you make your one-touch adjustments. Brilliant. German luxury brands costing vastly more could learn from the Charger's straightforward controls.
Nothing else is more happily apparent in the new Dodge Charger than that Chrysler has enthusiastically embraced the new design and quality standards dictated by Detroit's recent, painful bailouts. To do well against foreign automakers today, American carmakers cannot be satisfied with building cars that are as good as the competition. They must build better cars at lower prices than the competition. Dodge has gone about this in a bracingly built-in-America way.
Even with a Hemi V8 and optional all-wheel drive, as our test car was furnished, the new Charger's efficient engineering produces a full-size family sedan with both strong performance and surprisingly thrifty EPA fuel economy. Our Hemi-powered test car delivered an EPA-estimated 15 mpg City and 23 mpg Highway. V6 Chargers earn a stellar 31 mpg Highway.
The 2012 Dodge Charger is the classic combination: a full-size Detroit sedan with strong performance and unmistakable American looks, selling at a surprisingly attractive price. Compared with the full-size Dodge sedan of 20 or 30 years ago, a 2012 Charger will reward the owner with exciting styling, world-class engineering and impressive value. You no longer have to buy American because it's patriotic. With cars like this, you buy American because it's smart.