2012 Dodge Charger Walk Around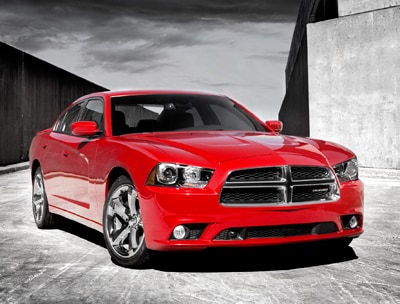 This latest-generation Dodge Charger is immediately recognizable. The front says it's a Dodge, a design theme that began life on, of all things, the upright first-generation Dodge Ram pickup truck. The two vehicles could not be more different, yet the aggressive, muscular cruciform grille suits both perfectly. Achieving that kind of unmistakable model-line identity is no small achievement.
In like manner, the tail of the Charger uses the same array of full-width taillamps made famous on the Charger in the '60s. It's a handsome look that is instantly recognizable to anyone familiar with historic Dodge styling cues. The Charger expresses pride in where Dodge, Chrysler Corporation, and for that matter, all American cars have been during the last few turbulent decades.
The body of the second-generation modern Charger is crisply styled throughout. It is considerably edgier and more muscular than its immediate predecessor, which had great promise but was, by comparison, a bit of a lump. Along the sides of the car are slanting, angular indentations that echo the racy rear-facing engine-room vents made so famous on the all-conquering Dodge Viper supercar. In the Charger, these are unmistakably bad looking in all of the right street-savvy ways.
Continuing this street look, in profile, the car's dramatically low roofline tapers downward rapidly at the car's mid-point. In combination with its high waistline and compressed greenhouse, the car expresses a secretive, almost hot-rod chopped appearance. Occupants seem to peer outward from sinister gun slit-like windows. Yet for all of its hunched-over appearance, the occupants' outward visibility is quite good enough.
When the Charger's dynamic outward appearance is combined with its strong performance, this is an American muscle sedan with the credentials to appeal to a broad range of tastes.
Interior
Examining the Charger's interior, we started in the back seat to investigate just how limited seating room might be underneath this low roofline. Inevitably, tall backseat passengers will have to scrunch down a little, though moderately tall riders will be just fine. The rear cabin is comfortable and roomy without being huge. The top of the backlight has multi-linear applique black stripes, providing a bit of shade from the sun and simultaneously creating the impression from outside that the rear window is even lower and more hooded.
The rear seat is firm and supportive, with a fairly hard back-cushion. A central pull-down elbow rest contains two cup holders and a stowage compartment. Dual rear-seat climate vents are provided, together with a 12-volt outlet and rear seat heaters. Deluxe.
Beautiful plum-shaded Nappa leather upholstery is furnished throughout. The front-seat display is mildly spartan, but not in the sense of being cold or under-supplied. Rather, the instrumentation has attractive, classy white-on-black dials. The display, uncomplicated and straightforward, is simple modern.
The dashboard has a sleek, scooped-out titanium-look central motif. Below the tachometer (which no longer has a redline because automatic shifting prevents over-revving) and speedometer are a water temperature gauge and a fuel gauge. Also included in the instrumentation is a compass and an exterior temperature readout.

Between these instruments, an Info board delivers a list of performance parameters, including coolant temperature, oil temperature, oil pressure, transmission temperature, engine hours, tire pressure and several measures of instant and trip fuel mileage. Our one complaint here was that gaining access to this Info board's numerous categories of data was confusing and took some non-intuitive hunting around.
The navi screen, by contrast, was excellent, intuitive, and immediately accessible. Navigation is by simple plan view. The screen is bright, easily read and devoid of complex graphics. Its touch-screen offers Radio, Controls, Climate, Navigation, Phone and More, the latter signifying Sirius Travel Link and a Settings inventory. New for 2012, the system has been upgraded, with hands-free texting, voice commands for Garmin navigation, Sirius Traffic, and full iPod control features. Suddenly, Chrysler and Dodge have one of the best navigation systems available today.
On the steering wheel are controls for the Info board, voice activation and cruise control. On the rear of the steering wheel, where the paddle shifters would be on the R/T Road & Track model, we found a complex set of six different touch buttons. These were designed for manipulating radio volume, selecting stations, bands and pre-selects, but they were a classic instance of too much of a good thing. Mastering which of these buttons controlled what functions, and using the buttons efficiently for their intended purpose would take some serious concentration.
In place of paddle shifters, our test car had a sequential 5-speed manu-matic shifter: It operated independently or could be manually selected. The system had a nice provision whereby if you wanted to cancel manual shifting and return to automatic, you simply push the lever to the right for about one second. Immediately, the transmission returns to selecting its own gears. The manual selector delivered fast, positive manual shifts. Excellent.
In the center console, our test car had two heated-or-cooled cupholders, a deluxe touch.