2012 Dodge Durango Driving Impressions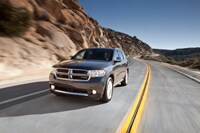 The Dodge Durango offers a fine mix of passenger-friendly transportation and truck-style ability to work. It starts with rear-wheel drive, in a class increasingly dominated by vehicles built on a front-drive foundation, yet it has a fully independent rear suspension and it's built with a one-piece unibody/frame, rather than a truck-style ladder frame. The Durango is easy to drive, with a comfortable ride empty or loaded, and it's quiet inside.
Both the standard V6 engine and optional Hemi V8 deliver plenty of power, and EPA mileage ratings aren't out of whack with the rest of the class. Durango responds to steering and braking inputs in a fashion that will please those who enjoy driving or go completely unnoticed by those who don't.
Though it was thoroughly redesigned for 2011, the Durango gets one significant mechanical upgrade in 2012. Models equipped with the V8 get a new six-speed automatic that allows the driver to manually select any of the gears. The EPA mileage ratings for V6 Durangos with all-wheel drive increases 1 mpg highway, though that results more from mastering the test procedure than a noteworthy mechanical change.
Nearly all the vehicles in the Durango's class are front-or all-wheel drive, built up from a front-drive platform that started as a car or minivan. The rear-wheel-drive Durango is not, even if the gauges and V6 engine are similar to what you get in a Dodge Caravan.
If you think you need front-wheel drive for traction, think again. Most front-drive vehicles carry more weight over the front wheels, where it helps traction. The Durango carries as much weight on the back wheels as the front, and just winter tires and the standard traction control will take it farther than most owners plan to go. Durango's excellent balance and rear-wheel drive also mean the four tires do more equal work. Front tires aren't overwhelmed pulling lots of weight while doing the steering, and rear tires do more than hold the tailgate off the ground. This is one reason the Durango steers crisply and needs less U-turn space than its rivals.
We hustled the Durango along some mountain roads at a fast clip, and found a lot of grip in reserve if you miscalculate your road speed. That's easy to do, given the subdued cabin and lack of wind noise, compliments of laminated front windows, dual firewalls, good aerodynamics, and a solid structure. We also noted that ride quality and handling dynamics didn't really change with five adults and two kids on board.
Around town the Durango soaks up big and small bumps alike with nary a quiver. The nose drops under heavy braking, and there is a little body lean in the corners, but it's steady and predictable with no hint of drama.
Durangos with the V6 offer all-wheel drive with power routed to all four wheels at a steady rate all the time. The V8 models have a more sophisticated AWD system, with low-range gearing for steeper inclines/descents and a Neutral position for flat-towing. In normal range, the V8 system delivers variable all-wheel drive, instantly changing the amount of power sent to the front or rear wheels depending on the amount of traction available under the respective tires.
We'd rate the current Durango's off-highway prowess about equal to its predecessor. The new generation's suspension is better and more flexible, and ground clearance is about the same. A skid-plate package is available, but the new one has things like aluminum suspension arms that may not take abuse or grounding quite as readily as the old model's truck-style steel bits. You don't want to hammer it over rugged terrain, but Durango has enough off-highway capability for most needs. Durango will go much farther afield than most owners would consider, and tires will likely be the limiting factor for slogging through mud.
The 290-horsepower, 3.6-liter V6 engine is smooth and generally quiet, getting mildly raucous only above 5000 rpm. Although its peak torque delivery comes at a high 4800 rpm, it has enough grunt to climb a 7-percent grade at 80 mph fully loaded in third gear. The V6 Durango will merge easily at speed provided you mash the gas pedal early, and it will downshift at least one gear for any notable speed gain. This is because the V6 is geared for highway fuel economy, and the transmission has five forward gears rather than the six or more of many competitors. Those competitors with five speeds often have more balanced gearing, less weight to haul, or both.
The 5.7-liter V8 Dodge calls the Hemi has 360 hp, but it's the 50 percent increase in torque and lower revving nature that make it feel more powerful than the V6. The Hemi features cylinder de-activation technology that shuts down some of its eight cylinders in certain steady-state driving situations, and its 6-speed automatic is more responsive than the V6's 5-speed. The V8 still lops a few miles per gallon off the top, but if you have a 6,000-pound trailer or just enjoy stirring acceleration, you'll appreciate it.
EPA ratings for the V6 are 16/23 mpg City/Highway, whether rear- or all-wheel drive, compared to 14/20 mpg for the V8 (13/20 with all-wheel drive). More expensive hybrids and diesels notwithstanding, everything in the Durango's class will be within a few mpg of its EPA rating. Driving style and vehicle condition can yield far greater differences. Our drive time suggests the EPA ratings are not far off reality with the Durango, though routine short trips in town on a cold engine are likely to lower the city numbers.
Durango's rear-wheel-drive architecture means better towing. All models are rated to handle a 5,000-pound trailer. With the tow package, the V6 rates 6,200 pounds and the V8 7,400 pounds max. A fully loaded vehicle generally means 1,000-1,500 pounds off those maximums, but in all cases the Durango has the best tow ratings in its class. Unless you consider the far-more expensive, distantly related Mercedes-Benz GL in the Durango's class.
Even if we never planned on towing anything we would seriously consider adding the tow package. It brings a larger radiator, an alternator that delivers more juice, better-cooled brakes, load-leveling rear shocks and a full-size spare. And the hitch comes in handy for bike or stowage racks, or a place to show your allegiances with one of those shiny hitch plates.