2012 Dodge Ram Introduction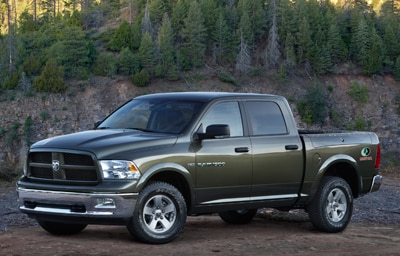 In spite of its bold, brash looks, the Ram is a refined package stuffed with amenities. The Ram 1500 delivers performance and ability on par for half-ton pickups. You can't go wrong among the full-size pickups. The most important thing is to choose the right model and configuration for your needs.
Redesigned for the 2009 model year, the 2012 Ram carries over largely unchanged except for a new automatic transmission.
Ram is Chrysler's entry in the traditional full-size, half-ton (1500) pickup market. As of 2011 Ram is its own brand, a sub-brand of Dodge.
The 2012 Ram 1500 is available in Regular Cab, Quad Cab (an abbreviated Crew Cab with forward-hinged doors), and four-door Crew Cab versions; there are three bed lengths as well.
Ram 1500 offers a choice of three engines: A 3.7-liter V6 rated at 215 horsepower, a 310-hp 4.7-liter V8, and the 390-hp 5.7-liter Hemi. The V6 is fitted with a 4-speed automatic transmission and the V8s have a 5-speed automatic. The V6 comes on smaller rear-wheel drives only, but the two V8s are available with either two- or four-wheel drive and only Ram and the Tundra offer the largest, most powerful engine choice on Regular Cabs.
On the outside, Ram carries the familiar big-rig look initiated by the 1994 Dodge Ram. Like many Dodge cars, the Ram's front end has a forward tilt, but it remains as aerodynamic as other pickups.
The Ram is a conventional full-size pickup truck, but it differs in rear suspension and powertrains from all of its competitors, primarily the Ford F-150 and Chevrolet Silverado and GMC Sierra, and to a lesser extent the Nissan Titan and Toyota Tundra. Because the Honda Ridgeline does not have a separate frame, cab and bed, nor a choice of two or four-wheel drive, we do not consider it a conventional half-ton pickup, although those buying a crew cab pickup primarily as a second car would be wise to consider it.
Underneath, where for decades pickup trucks have had live axles with leaf springs, the Ram's live axle is suspended by coil springs and it is located by four trailing links and a lateral Panhard bar. The RamBox cargo box remains unique and for 2012 it's available on more models and costs less. The front suspension, steering and brake systems parallel other half-ton pickups.
Inside, the Ram offers seating for three to six people, in-floor storage on Crew Cabs and environments that span working-grade vinyl and rubber to French stitched leather with ventilated and heated seats. Though it varies by region there are a dozen Ram 1500 nameplates.
Changes for 2012 are limited to a new steering wheel, paint colors, wheel styles and so on. Ram says the V8 trucks get a new 6-speed automatic transmission but we say in reality it remains a 5-speed automatic.
Brand loyalty in pickup trucks makes some sports rivalries look like "he said, she said" arguments, and many will recommend only one despite the fact that there are no bad pickups. Online "competitive comparisons" that imply drum brakes are better than disc brakes (we disagree), and payload and tow ratings that change frequently make shopping more difficult. We recommend avoiding any buying decision made purely on brand or maximum tow rating.
With so many versions there is not shortage of Rams to choose from. Compared to the competition, the Ram's rear suspension is unique and the styling is less conservative. GM and Ford half-tons offer more engine choices. GM, Ford and Toyota pair their V8s with a 6-speed automatic versus the Ram's 5-speed. The Nissan Titan is the only one that offers a full eight-foot long bed on their Crew Cab model.