2012 Ford Edge Introduction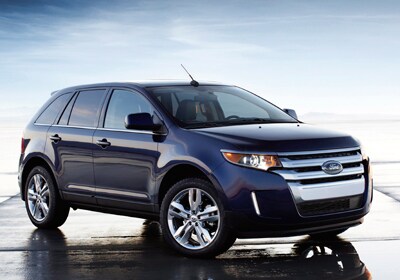 The Ford Edge is a balanced, versatile five-passenger vehicle that works for a lot of buyers in a lot of ways, and the 2012 models offer several new features that expand its appeal further.
The 2012 Ford Edge is now available with a 2.0-liter turbocharged four-cylinder engine called EcoBoost that achieves an EPA-estimated 30 miles per gallon Highway.
The 2012 Edge is quieter inside than last year's models thanks to new sound-deadening foam in the fenders and roof pillars and a thicker windshield. Also new for 2012 are subtle aerodynamic tweaks to all the models: re-shaped side mirrors and a new spoiler at the top of the liftgate. Launched as a 2007 model, Edge was re-styled and substantially improved for 2011.
The Ford Edge has been selling in strong numbers, and there's no mystery behind its success. With a blend of sedan and sport-utility attributes, Edge defines the idea of a so-called crossover vehicle. It mixes the ride and handling characteristics of a mid-size sedan with the high seating, commanding view and passenger/cargo flexibility of a conventional sport-utility vehicle. From there, Edge adds layers of appeal in a lot of different ways. For starters, it offers plenty of choices, in models, engines, drive configurations and features.
The 3.5-liter V6 that comes standard is smooth, solid and responsive. The slightly larger 3.7-liter V6 in the Edge Sport delivers the most horsepower and torque in the line, and more oomph than you'll find in a crossover anywhere south of full luxury brands. The new 2.0 EcoBoost delivers more than adequate power with its impressive fuel economy. Based on EPA ratings, all Edge variants deliver excellent fuel mileage compared with similarly configured competitors.
The Edge is not pretty, but it does look contemporary and, well, edgy. Its visual presence is defined by a long wheelbase and short overhangs past the tires at each end. Styling updates for 2011 minimized its barrel-shaped, toy-like impact and have given the Edge a more serious look. You probably won't notice the aerodynamic tweaks made to the 2012 Edge. EcoBoost models get special aerodynamic aids aimed at reducing drag.
A wide choice of models starts with the base Edge SE, which comes with all the essentials and plenty of niceties without overly complicated controls. The Edge Limited model approaches luxury grade with its leather upholstery, while the Edge Sport includes sporty paddle shifters for semi-manual shifting and piano-black trim.
Inside, the Edge presents the finish and ambience of a good sedan with nearly all the bells and whistles, including available premium audio, navigation and rear-seat DVD entertainment. The optional MyFordTouch voice/touch control interface will appeal to some buyers and has undergone its first round of refinement and improvement for 2012, but we found it cumbersome and annoying. Navigation and a rearview camera are useful options, though Ford doesn't have the best navigation systems.
Edge can be transformed from five-seat people hauler to cargo carrier with a few quick adjustments. It can carry an eight-foot ladder or bundles of lumber inside, and still seat two. Properly equipped, Edge can tow a substantial 3,500 pounds.
All-wheel drive is available on all models except the base SE. The AWD is a valuable addition in the right climate, but it takes a measurable toll on fuel economy.