2012 Ford Edge Summary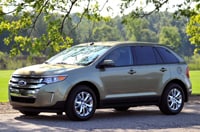 There's a reason Ford's Edge is a best seller among crossover vehicles. It defines what a crossover is supposed to be, mixing the smooth comfort and driving behavior of a solid sedan with the high seating, flexibility and cargo hauling space of a sport-utility vehicle. The Edge is stylishly edgy, and it offers a lot of choices in trim, features, and engines. Plus, there's a choice of front- or all-wheel drive. The 2.0 EcoBoost four-cylinder engine delivers more than sufficient power and the best EPA mileage ratings in the class. The V6 engines allow towing capacity up to 3500 pounds.
Jim McCraw reported from Nashville, Tennessee; with J.P. Vettraino reporting from Detroit.