2012 Ford Edge Walk Around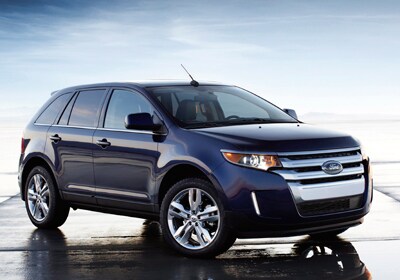 Ford Edge has come to define the idea of a so-called crossover vehicle, in concept and appearance. It clearly blends the more planted look of a traditional station wagon with the taller roof and seating position of a conventional sport-utility vehicle.
The Edge had a substantial overhaul in both content and styling for 2011, introducing a new grille, bumpers, lights, hood and fenders. For 2012, the changes are more subtle, and intended to improve aerodynamic efficiency.
By its exterior dimensions, the Edge is a bit odd in the current market place, because it doesn't align closely with many of its obvious competitors. It's substantially shorter in length than the Dodge Journey, Mazda CX-9, or Ford Explorer. The Edge has a much longer wheelbase than the Kia Sorrento. Overall, it comes closest in size to the Chevy Equinox crossover SUV. Edge is four inches shorter in overall length than the mid-size Toyota Camry and rides on a wheelbase that is a couple of inches longer.
The long wheelbase and short overhangs past its wheels define the appearance of the Edge as much as anything, creating a vehicle that looks like a toy. The cosmetic changes for 2011 introduced stronger creases throughout, minimizing the rolling-barrel quality and giving it a substantially more serious look.
The aerodynamic improvements for 2012 start with re-shaped side mirrors and a new spoiler at the top of the liftgate.
Models equipped with the 2.0-liter EcoBoost four-cylinder engine get more aerodynamic enhancements, including side-door rocker moldings and active grille shutters. If more air is required to cool the engine, the active grille shutters automatically open. If no airflow is needed, the shutters close, reducing aerodynamic drag and helping improve fuel economy.
Another efficiency for 2012 is low rolling resistance tires on models with 18-inch wheels (the majority sold). These tires have slightly harder rubber than conventional tires and require less energy to get and stay rolling. Ford says a 10 percent decrease in rolling resistance can translate to a 2 percent increase in fuel economy. Less rolling resistance means slightly less maximum cornering grip, however.
The Edge Sport stands out from the other models. The differences start with a tuxedo-black grille and a larger front spoiler, carry through 22-inch wheels and tires that look like rubber washers stretched around the rims, and end with larger, oval-shaped exhaust tips under the rear bumper.
Interior
Ford Edge defines the idea of a crossover vehicle inside as well as out. There's room for five sitting up high, in comfortable, sedan-style surroundings, but with a few quick adjustments there's SUV-like space for bulky cargo. The finish and materials have improved steadily since the Edge was introduced for 2007 and now approach luxury grade.
And the Edge is quieter inside than ever. Changes for 2012 focus on reducing noise in the cabin, starting with expandable foam baffles tucked into the fenders and roof pillars, and a thicker acoustically laminated windshield.
The Edge Sport is distinguished by aluminum foot pedals and black piano-finish trim, as opposed to wood-grain in the Edge Limited. The Sport is also the only model with shift paddles behind the steering wheel to manually operate the 6-speed automatic transmission.
The driver sits high, with a commanding view forward. The front seats are generally comfortable and large enough for big folk, reasonably well contoured and decently supportive. For 2012, a 10-way power driver's seat comes standard on all but the base SE model. The same seat is optional for the passenger side.
Edge comes with one of two different gauge and switch packages. The SE and SEL have a more conventional analog instrument cluster in front of the driver, a single 4.2-inch LCD information display at the top of the center stack of switches, and conventional climate and audio knobs and buttons below. The standard instrument package isn't flashy, but it's straightforward, easy to understand and very effective. The standard package is available with Ford's SYNC system, which allows phones and other devices to be connected wirelessly and controlled by voice commands.
Limited and Sport models come with a different instrument panel with a much larger central display, a flat panel of touch switches below that, and a pair of five-way thumb switches mounted on the steering wheel spokes. These elements comprise MyFordTouch (MFT).
MyFordTouch is an evolution of the Ford SYNC system. It puts two 4.2-inch LED displays in front of the driver, on either side of a big central speedometer, and another 8-inch LCD at the top of the center stack with its own color-coded graphics. In total, MyFordTouch controls and displays climate settings, audio adjustments, programming of automatic door locks, telephone operation, navigation, and SYNC Services (something like OnStar), a boggling array of other choices, including turn-by-turn directions, sports scores, fuel prices, movie listings, dining options, even horoscopes.
Climate and audio settings can be adjusted in four separate ways: by voice command, by the thumb buttons on the steering wheel, by touching the display screen, or by using the touch buttons in the switch stack below. Actually, the buttons are more like touch areas, without a mechanical button to operate. It's a little bewildering at first, mostly in terms deciding which of the four options to use for the intended adjustment, or in locating the touch points where the hard switch actually works, should you prefer to do it the old-fashioned way. The driver must use a carefully pointed fingertip to find the spot where the switch operates, not always easy when bouncing down the road.
Ford updated its MyFordTouch software for 2012, creating more distinct graphics and easier-to-use menus than those in the original MFT scheme. All future updates will be available for free download and installation via a USB thumb drive, and the 2012 updates are available for upgrading 2011 models.
In other words, MyFordTouch is improving. With a bit of time and familiarity, the various operations get easier. In some cases MFT can be fun to use in a high-tech way. Still, a lot of buyers will be a lot happier with the base system. The problem is that a lot of the bells and whistles offered on the Edge are only available if you take MyFordTouch.
Storage space for small items is good. There's a big, deep box in the center console, a good-sized glove box, bins molded at the bottom of the door panels and pockets on the front seatbacks. In total, there are eight cup or bottle holders and four 12-volt power points.
The rear seats have plenty of room, with the same high, clear view that's afforded in front. The rear seatbacks recline to the passenger's taste, and backs and bottom are decently contoured on the outside of what is essentially a bench. The Edge will work nicely for a family of four with two members in their mid-teens, but five is a crowd due to the small rear-center seat.
Cargo space is generous, with 32.2 cubic feet of volume behind the rear seat, and 68.9 cubic feet with the second seat folded flat. The rear seatback is split and folds easily. An optional fold-flat front seat helps accommodate long items. Folding the front-passenger and right-rear seatbacks forward provides space for an eight-foot step ladder or a load of two-by-fours inside the vehicle, with room left for the driver plus a passenger behind the driver. The lift-in height is just about right, and a power-operated tailgate is available.
Edge's stylishly curved exterior takes a small toll on interior space, however. Measured by absolute cargo volume, it ranks mid-pack among mid-size crossovers and SUVs. Toyota Venza and Kia Sorrento have bit more cargo room (maximum 70.1 and 72.5 cubic feet, respectively), and Ford's smaller Escape comes very close (67.2 cubic feet).