2012 Ford Explorer Introduction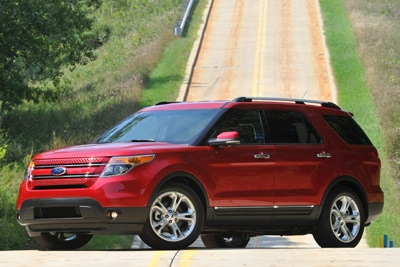 Out of the box, the Ford Explorer has demonstrated itself to be one the best, seven-passenger sport-utility vehicles available. It delivers the function and family friendly features of a minivan with a more rugged emotional appeal, off-road and towing capability for those who need it, and SUV mileage that was unheard of back in the day.
The venerable Explorer was essentially re-invented for 2011, and Ford might have taken a pass on further improvements for 2012. The opposite is true. In addition to an expanded palette of paint colors, the 2012 Explorer is now offered with an optional 2.0-liter turbocharged four-cylinder engine.
Ford's so-called 2.0 EcoBoost is the first four-cylinder in an SUV of the Explorer's size in a long, long time. It has more power than the standard V6 in the previous-generation Explorer, with half the displacement, and it delivers the highest EPA mileage ratings in this class: 20/28 mpg City/Highway.
This latest-generation Explorer has a one-piece, unitized body and frame like the typical sedan, rather than an old-school, ladder-type truck frame with a separate, bolted on body. It's four inches longer and five inches wider than the previous (pre-2011), body-on-frame Explorer, with third-row seating standard, yet it's 100 pounds lighter. Both the 2.0 EcoBoost and the standard 3.5-liter V6 are more powerful than previous-generation engines, yet mileage improves up to 40 percent.
The 2012 Explorer is available in base, XLT and Limited trim levels. All are great looking, rugged in a familiar SUV way, but also fresh and aerodynamically refined, and all models seat seven. This big SUV actually looks smaller than it is.
Inside, there is class-leading legroom in the second row, real space for passengers in the third, and up to 80.7 cubic-feet of cargo space. It can be reconfigured in seconds, with split rear seats that fold with a button on each side and bounce back up with the pull of a lever. The interior is smartly styled and well finished. The materials are good and the build quality great.
The base Explorer comes well equipped, with all the essentials, plenty of niceties and no overly complicated controls. The leather-upholstered, heated-seat Limited is luxury grade. It's offered with nearly all the bells and whistles, including premium audio, navigation and rear-seat DVD entertainment. The optional MyFordTouch voice/touch control interface can be cumbersome and at least a little annoying, but its leading-edge quality will appeal to some buyers, and it has undergone its first round of refinement and improvement for 2012.
The 2.0 EcoBoost is sufficiently powerful, and acceptable if mileage is the absolute priority. Still, if gas costs $4 per gallon and you drive 15,000 miles a year, it will take more than three years to recover the four-cylinder's $1,000 up-front cost in fuel savings. We prefer the standard 290-horspower V6. It delivers smooth, strong acceleration, and ranks near the top of the class in both horsepower and fuel economy: 17/25 mpg.
Explorer's chassis is super rigid, using twice as much high-strength steel as the old. That makes for not only great crash-test scores, but also a quiet cabin, excellent ride quality and solid handling that belies the Explorer's considerable size.
All-wheel drive is available on all models with the V6. The all-wheel drive maximizes traction with a fancy electronic system called Terrain Management. Even with regular all-season tires rather than specialized tires, the Explorer will blast through sand or traverse deep ditches and steep hills, no problem. We know. We did it. And it has the smoothest ride we've encountered over such terrain.
Ford claims the Explorer has 10 segment-exclusive features or systems, starting with a couple of safety standouts: the optional inflatable rear seatbelts and standard curve control, which applies braking to individual wheels as needed to correct corner trajectory. Beyond the required complement of front, front-side and head-protection airbags, it has an extra knee-protection airbag for the front passenger and all the electronic traction and stability systems, including rollover mitigation and trailer sway control.