2012 Ford Explorer Walk Around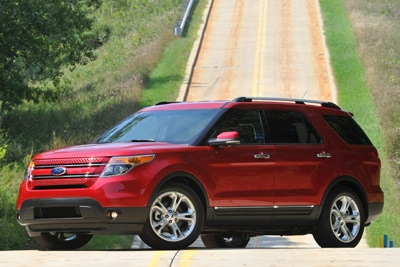 The Ford Explorer is a looker, rugged but refined, familiar but definitely fresh. Five new metallic paint colors for 2012 enhance its polished appearance.
Re-invented for 2011, the current Explorer is 4 inches longer and 5 inches wider than its body-on-frame predecessor. It's a foot longer than Ford's Edge crossover, a few inches shorter than the Dodge Durango SUV and about eight inches shorter than the Chevy Traverse. Yet it's several inches wider than all of them.
Explorer's width is evident in its confident stance, but its smooth styling cheats the eye. It has beefy but smooth proportions, with fluid lines that are more aerodynamic than before. Details such as the liftgate spoiler and flexible lower front air dam (in black) were tweaked in the wind tunnel.
Beautiful headlights complement the graceful fenders and transform the inherently square nose. The amber indicators sweep back like narrow wings atop tidy main projector beams. The plastic grille is gray on the base Explorer, body-colored on the XLT (the best looking), and satin-chrome on the Limited. The hood looks short from the side but long when looking straight down it. It's got two parallel humps and a scoop in the center, smoother than it sounds. Rear taillights are LED, and also look good. Black rockers on the sides allegedly lift the eye, but do they? We still like body-colored better.
The window outline is clean, bold and symmetrical, with blackened A-, B-, and D-pillars, and body-colored C-pillars that slant down and back and impart forward motion to the vehicle. With standard dark privacy glass, from the shoulders up, in white at least, the Explorer looks like a sleek and powerful yacht.
You'll also see themes from other Ford products. The fender flares are inspired by the Mustang, body sides follow the lines of the Taurus, and the three-bar grille strikes clearly of Range Rover (until recently part of the Ford family). There's a rich, shiny brownish color called Golden Bronze Metallic that we swear we've seen on Range Rovers, only it looks even better on the Explorer.
Wheels are 17-inch steel with plastic covers on the base Explorer, 10-spoke 18-inch painted aluminum on the XLT (best looking), and 20-inch painted aluminum with spokes like flower petals on the Limited. The optional 20-inch polished aluminum wheels have spokes like shriveling flower petals. No wait, those spokes now look like crab pincers, or no, make that a dentist's tooth extractor tool. They'd don't do justice to the car.
And it is a car, if you define truck by a ladder frame with a separate, bolted-on body. If that's the definition, we can stop saying truck for most SUVs now, and maybe even stop saying crossover, because they've just about all crossed over. The body-on-frame structure is just for pickups anymore, or a few big, aging SUVS. Virtually every manufacturer is building SUVs with a one-piece, unitized body-frame because they're stiffer, and with today's high-strength steels, they're lighter.
The reinvented Explorer uses twice as much high-strength steel as the old one, and throws in Boron steel because its strength is not only high. It's also thin so it bends more easily to form the Explorer's chassis curves, allowing the fenders to wrap gracefully and fade away at the corners. Such curves also help to transmit crash energy down and outside, away from the cabin.
Interior
There's a lot that's good inside the Explorer, and only one thing that really gives pause, but we'll start with all the space.
How about outstanding second-row legroom, at nearly 40 inches, and good third-row space at 33.2 inches? Two 12-year-olds will be happy in the third row, with that legroom to squirm in and their own cupholders and bins. Because the rear doors swing wide and open easily, and because the second-row seat flips forward in a heartbeat, reaching the rear row is an easy climb, even for adults.
Cargo volume measures 21 cubic feet behind the third row (comparable to trunk space in a big sedan, and among the best in Explorer's class), 43.8 cubic feet behind the second row (comparable to a compact SUV or crossover with the rear seats folded), and 80.7 behind the front seats. The cargo space is substantially less than what's available in GM's longer trio of crossovers (Chevrolet Traverse, GMC Acadia, Buick Enclave), but competitive with the rest of Explorer's competition. There's a little bit more maximum cargo volume in a Dodge Durango or a Honda Pilot.
Still, it's very easy to change configurations in the Explorer. The second seat folds like magic at the touch of a button on each side, bouncing back up with the pull of a lever.
The front seat elevates high, which is good because the hood looks long from the driver's seat. The Explorer will be a versatile family vehicle, so the seats have memory in the XLT and Limited, while the steering wheel and pedals adjust for different drivers in the family. The ratcheted headrests are great, because they meet safety standards but don't push your head down at the chin. It's a problem with other vehicles that Ford solves with ratchets.
Ford says its goal was to make the Explorer's interior look expensive, like a BMW X5 or Audi Q7. They've succeeded, at least on the Limited, although 40k-ish is expensive enough to warrant looking it. All the panels inside Explore fit precisely. The Limited's leather seats are perfect (and optional on the XLT), both in bolstering and stiffness/softness. They're heated on XLT, heated and cooled with perforated leather on Limited.
When the driver surveys his or her domain, it all looks satisfying, with a clean and slanted center stack using stylish satin-finish trim materials, and attractive climate vents and audio speakers. The doors have metal speaker grilles, and curve into the dash panel. There's a big glovebox with a shelf, leather grab handles and armrests on Explorers with leather interior, and long door pockets with space for a bottle.
One reason we like the base model is its conventional gauges, relatively simple 4.2-inch LCD screen at the top of the center stack, and familiar mechanical knobs below. The base Explorer doesn't come with the MyFordTouch driver connect technology, and neither does the XLT, unless it's chosen as an option.
MyFordTouch has two driver-configurable LCD cluster screens in front of the driver on either side a big speedometer, and an 8-inch color touch screen at the top of the center stack. Already our driving is distracted. The screens come in four quadrants and colors: yellow for phone, red for audio, blue for climate and red for navigation. You have to scroll through a lot of stuff to get information, for example engine temperature, and even after you figure it all out, it can take your focus off the road to perpetually configure.
Many of the features and functions, say climate or audio settings, can be adjusted in four separate ways: by voice command, by thumb buttons on the steering-wheel spokes, by touching the display screen itself or by using the buttons in the switch stack below, should you choose to do it the old-fashioned way.
It's a bewildering at first, mostly in terms deciding which of the four options to use for the intended adjustment. There's a satisfying little blip sound when you make positive contact with a function on the touch screen, for example the climate system. Still, the touch screen doesn't work as well as the buttons below, at least not for us, but even the buttons take some getting used to. Actually, they are more like touch areas, without a mechanical switch to operate. The driver must use a carefully pointed fingertip to find the touch points where the switch actually works.
The voice command is also problematic. During one test, we drove for the morning with a Ford representative, and for the afternoon with a fellow automotive journalist who has a clear radio voice, and Voice Command didn't work for any of the three of us. Well, less than half the time.
We said, "Climate," and it replied, "Climb in." We said, "Seventy-two degrees," and it replied, "Eighty-two degrees." We repeated, slowly and with careful articulation, and it stuck to its 82 degrees. We said, "Sixty-five degrees," and it replied, "Fifty-six degrees is not a valid temperature." It got frustrated with us (maybe it just didn't like our smart-mouthing it), and once told us in no uncertain terms, "Say yes or no." We are not making this up. And it wasn't just a war over temperature, it was a war over everything. It got worse before it got better. We wanted points of interest on the map display and it demanded we give it an address for navigation. Finally we stopped talking to it.
Ford has updated the MyFordTouch software for 2012, creating more distinct graphics, easier-to-use menus and allegedly better voice commands than the original scheme. All future updates will be available for free download and installation via a USB thumb drive, and the 2012 updates are available to 2011 MyFordTouch buyers.
In other words, MyFordTouch is already getting better, and with time and familiarity, the various operations get easier, whichever means you choose to control them. In some cases MyFordTouch can be fun to use in a high-tech way. Still, a lot of buyers will be a lot happier with the base system. The problem is that a lot of the bells and whistles offered on the Explorer are only available if you take MyFordTouch.
In short, we are not fans of the voice commands or MyFordTouch, but we really like the rest of the Explorer cabin.