2012 Ford F-150 Driving Impressions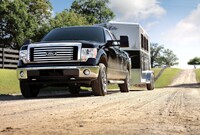 The Ford F-150 is among the heavier trucks in its class, contributing to a solid feel and none of that empty metal box bang-and-clang that characterized pickups of old. There's an impression of substance and tight construction regardless of the road surface or the model.
What stands out most driving the F-150 is the relative refinement. Ford attributes much of this to the Quiet Steel laminate used in some body panels.
The standard F-150 engine is a 3.7-liter V6 with contemporary technology like variable timing for the four cams and four valves per cylinder. This engine was in service in front-drive platforms and the new Mustang before it came to F-150, so it's not unproven. In the F-150 it's rated at 302 hp at 6500 rpm and 278 lb-ft at 4250 rpm, just 8 hp less than the 2010's biggest engine. You have to get the revs up to get the best work from it but the transmission is well calibrated, so it's a realistic choice where cost or fuel economy are paramount and work is limited to relatively light towing or hauling on fairly level ground.
Also adapted from the Mustang but not revving as fast in the truck application is the 5-liter V8 of 360 hp and 380 lb-ft of torque, more than GM's 4.8 and 5.3, Ram's 4.7, Titan's 5.6 and Tundra's 4.6; the Ram Hemi and Tundra 5.7 rate higher power. The highest-payload F-150s use this workhorse, it can tow up to 10,000 pounds, and it sounds like a muscle-car, more authoritative than even the 6.2-liter.
The 6.2 debuted in the SuperDuty pickups, that's why it's the only iron-block engine (and hydraulic steering assist) in the line. In F-150 applications it rates 411 hp and 434 lb-ft of torque at 4500 rpm, the most powerful half-ton pickup engine, but is available only in short-bed SuperCrew trucks and the Raptor. GM's 6.2 is rated slightly lower and also limited to certain configurations.
The most impressive engine choice is the twin-turbocharged, direct injection EcoBoost 3.5-liter V6. Horsepower is 365 and torque is 420 lb-ft at a nice low 2500 rpm so unless you need the rumble of a V8 it's by far the best combo of performance and economy. There is no lag waiting for power to come up, it's the quietest engine with just a hint of whistle at moderate throttle (talk-radio would mask it), its at-altitude performance will be better than the others and it often carries more than 6.2 V8 trucks because the engine is lighter. You can't use boost and get good economy at the same time, but you can have both to work with in the same truck. The only negatives are it costs more than the 3.7 or 5.0 and it's grunt sometimes overwhelms rear traction when towing resulting in axle-tramp, a rough up-and-down motion of the rear axle until traction control intervenes or the driver lifts off the throttle. On 4×4 models it comes with a 36-gallon fuel tank but 4×2 are limited to a 26-gallon tank.
The 6-speed automatic works smoothly, and is not overly anxious to get into that fuel-saving top gear as soon as possible; engaging Tow/Haul mode will stretch out the shift points, not require a mat-flattening mash of the pedal to affect a downshift and provide some engine braking on descents.
The F-150 has a fully boxed frame, which is quite stiff and resistant to both bending and twist. The front suspension is a dual ball-joint design pioneered and still used by BMW and found on the Expedition sport-utility, while the rear suspension has long leaf springs and outboard shocks.
Electric-assist steering is used on all F-150 except those with the 6.2 V8. It makes for lighter effort at low speeds, better weighting at road speeds, never loses assist in extensive maneuvering as when backing a trailer, and is programmed to reduce fatigue from crowned roads or crosswinds. It should simplify engine service, requires no service of its own, and can add up to 4 percent in highway fuel economy. However, the electric-assist steering is not rated for snow plowing, and the hydraulic-steering 6.2 V8 is only in Crew Cabs also not recommended for plowing.
The sheer mass of the F-150 combines with the suspension to deliver a very good ride (by pickup standards) and quiet composure. Sure, it will skip on bumpy corners and move around over dry wash scrabble at speed but it doesn't get upset or noisy. Longer wheelbases will bob or pogo-stick on some expansion joints and expressway surfaces but it never becomes fatiguing. As is often the case, the standard-size wheels produce better ride quality and less road noise than the 20- and 22-inch packages.
Brakes get the job done with their ultimate performance based as much on tire choice and weight in the bed as anything else. Electronic stability control and anti-lock brakes are standard across the board. A locking rear differential is optional for the best traction and available even on some 2WD models, and in many cases the suspension tuning on an FX produces the best ride quality over marginal roads and city potholes.
Some of the factors that aid visibility also hinder it. The high stance of a pickup is good for more distant views but hides things behind the tall tailgate and this is a wide piece of equipment. Extendable towing mirrors include a flat upper element and separately adjustable wide-angle element for a superb view rearward and safe towing but they are big and will be easily smacked off if you forget they're extended or don't leave space for that motorcyclist.
The rearview camera is good for the view behind the tall tailgate and on the navigation screen has colored lines to indicate the width of the truck and centerline for hitching a trailer; however, this display is not predictive and does not move the colored lines with the steering wheel so it applies only in straight reversing. Rear park sensors also aid maneuvering in tight quarters, raising the frequency of audible beeps as you move closer. You'll want to turn that off when backing up to a trailer or in other situations, but that involves going through a couple of menus on the information screen, more tedious than the simple defeat buttons used by Toyota and others.
The payload rating for the F-150 models varies from about 1,560 pounds to 3,060, but that includes occupants other than the driver. A construction crew of four 200-pounders in a SuperCrew might have just 700 pounds of rated capacity left for tools and materials. The highest gross combined rating (truck, trailer, cargo, passengers) for any F-150 is 17,100 pounds and these pickups are among the heaviest half-tons.
Maximum tow ratings for most F-150 cabs range from 11,000-11,300 pounds. These highest ratings are similar to the Ram 1500 HD which uses heavy-duty components including stronger (but more common 8-bolt on the Ram) wheels. Remember these maximums apply to an unloaded pickup; if you foresee towing more than 7000-8000 pounds behind a loaded F-150 you should consider stepping up to Super Duty.
The integrated trailer brake controller option is the ideal choice for smooth braking. We've tested it and it works much better than aftermarket systems. But verify that the integrated controller will work with the brakes on your trailer; some electro-hydraulic trailer systems are not compatible.