2012 Ford F-150 Introduction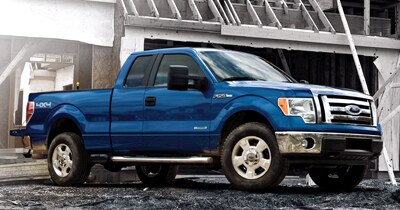 Smooth and quiet, the Ford F-150 is comfortable on bumpy streets around town, over rugged terrain at construction sites, around farms and over utility roads, and on the open highway. Its steering is nicely weighted and requires little correction on the highway making it nice for long cross-country tows. The cabs are comfortable, whether ordered with leather or cloth.
The 2012 Ford F-150 lineup offers a plethora of models in dozens of permutations. All are highly capable trucks, even those loaded with luxury features. The F-150 was completely redesigned for 2009. For 2011, the F-150 received a new engine lineup and electric-assist steering on all but 6.2-powered Crew Cabs. For 2012, the Lariat Limited model is no longer offered, but one of the nine F-150 versions should be close enough.
A new FX appearance package is for 2012 F-150 FX2 and FX4 models that includes 20-inch wheels and lots of flat-black trim inside and out. The FX Luxury package adds cooling to the heatable front seats.
Other noteworthy changes include electric shift-on-the-fly four-wheel drive for 2012 F-150 XL up to Lariat models, while 2012 F-150 Lariat, King Ranch and Platinum offer a 4×4 auto mode that requires no driver action and hill start assist. All 2012 F-150 4WD models can now be flat-towed behind another vehicle, like a motorhome or larger construction truck. And a new locking rear differential for 2012 is offered on more axle ratios and 2WD models than the old limited-slip was.
The F-150 lineup runs the gamut from wash-off vinyl flooring and a two-door Regular Cab to leather-lined premium four-door models with as much rear-seat legroom as the front of most luxury sedans: Within those extremes lies something for everyone. Yet even the least-expensive F-150 isn't boring; it leaves room for customization, does the work required, and keeps overhead down.
With one of the deepest beds in the segment, the F-150 has generous cargo volume out back and a maximum payload rating of 3,060 pounds; most versions carry 1,550-2,100 pounds. Any cab model F-150 can be optioned to tow more than 11,000 pounds; the range varies from 5,500-11,300 pounds. (The Ford Super Duty line of heavy-duty pickups is covered in a separate New Car Test Drive review.)
Two V8 and two V6 engines are offered, all with 6-speed automatic transmissions. Standard on 2WD is a 302-hp 3.7-liter V6. Other choices include a 360-hp 5-liter V8, the only engine offered on every cab/bed combination, a 411-hp 6.2-liter V8 on SuperCrew short beds, and a 365-hp twin-turbo 3.5-liter V6 on all but regular cab short beds. Each engine except the 6.2 offers multiple axle ratios.
Many years the best-selling pickup, the F-150's had a target on it for those same years. So it has to stay competitive: The standard V6 is more powerful than any other pickup V6 and the same horsepower as Chevy's 1.1-liter-larger V8; the 6.2 offered in Crew Cabs and Raptor is more powerful than any half-ton pickup engine; it's the only pickup that comes with a 6-speed automatic in every model. And its maximum payload and weight ratings are competitive in a world where numbers and rankings often change monthly.
Like any full-size pickup, the key to an F-150 is assessing your needs accurately and choosing the best one among all the permutations. Also like any pickup, remember that maximum payload and maximum trailer weight don't go together, are available only on a few of the 50-plus versions, and often decline as soon as you check an option box other than paint or aluminum wheels. Also remember the EPA ratings are only that, for empty trucks, and you are moving around at least 5,000 pounds. Do that, and you should be quite happy with any F-150.