2012 Ford Fiesta Introduction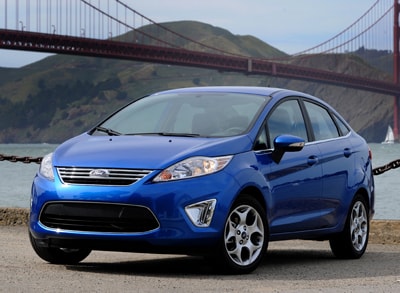 The Ford Fiesta is among the best of an impressive choice of recently redesigned subcompacts. Completely redesigned for 2011, Fiesta carries over with no significant changes for 2012. Some believe the second year of production is the sweet spot: All the bugs have been worked out yet the design is still new enough to offer the latest advances in safety engineering and fuel efficiency. If that's true, the 2012 Ford Fiesta is in the sweet spot.
The 2012 Fiesta comes in hatchback and sedan versions and the two body styles make distinct statements.
The Fiesta sedan is an interesting combination of an American style econobox with softened edges and a high rear deck (trunk lid). The Fiesta hatchback presents a more satisfying, Euro like profile, with nicely wedged side character lines and an almost sensuously rounded posterior. Choice is in the eye of the beholder, but both are pleasant and more than competitive in today's design conscious new car market. We prefer the hatch.
Inside, Fiesta features a voice activated infotainment system that augments the traditional AM/FM/CD/MP3 stereo with audio and podcasts streamed into the sound system via a Bluetooth link to a smart phone. Non voice audio controls and creature comfort settings revert to basic knobs and buttons that are sized and arrayed for ease of use with minimal distraction from the driving task.
Comfortable seats have enough side and bottom bolsters to keep occupants properly positioned, but gingerly, without obstructing ingress and egress. Quality of interior materials is either on a par with or a tick or two above the expected standard for cars in the Fiesta's class. Ford wants to boost this even further, too, with something not commonly found on cars in this size and price class: Leather seating surfaces and heated front seats are optional on the top of the line sedan and hatchback.
We found the Fiesta feels right at home running around town and on weekend errands. It slips conveniently into fleeting gaps in stop and go urban traffic and into space limited parking slots.
The Fiesta is powered by a 1.6 liter four-cylinder engine. We found its 120 horsepower sufficient to tackle the daily commute in stride. The ride quality is smooth, important in the daily grind. Wind and road noise is decently muted. Steering feel is certain, the Fiesta goes where you point it, and it doesn't lean much in corners at responsible speeds. It handles long weekend drives well, also.
Fiesta is available with a 6 speed transmission that works like an automatic but gets the fuel economy of a manual transmission. This twin clutch, automated manual is the best of both worlds for people who like driving but live in the big city: there's no clutch pedal to have to work repeatedly yet the driver can engage in authentic manual transmission gear changes. There's also the traditionally better fuel economy of a manual gearbox. Fuel economy is an EPA estimated City/Highway rating of 29/38 miles per gallon for the 6 speed against 28/37 mpg for the standard 5 speed manual. Normally, an automatic would come up two or more mpg short of a manual.
2012 Ford Fiesta buyers can individualize their cars further, with two new interior packages featuring two-tone leather upholstery in black and red or black and white. A new Premium Sport Appearance package for the 2012 Fiesta adds polished wheels, blacked-out trim and, on manual-shift versions, a numerically higher final drive ratio (4.25:1 vs. 4.07) for snappier acceleration performance.