2012 Ford Focus Driving Impressions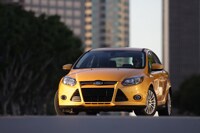 The 2012 Ford Focus uses an all-new 2.0-liter engine with direct injection and twin variable valve timing. It makes 160 horsepower and 146 pound-feet of torque, an increase over the old engine of 20 horsepower and 10 pound-feet. It's plenty powerful, but mostly, it's extremely smooth.
At the time of the introduction, Ford didn't provide specific fuel mileage estimates, other than a projected 40 mpg highway. Most of the automotive journalists at the event in California got in the mid-20s, which is what we got.
If only the new automatic transmission were programmed to be as smooth as the engine. Its shift points, whether in Drive or Select (curiously, the S stands for Select, not Sport), were mystifying, unexpected, frequent. Floor the throttle in first gear and it shifts at redline in 2nd, and then quickly short-shifts into 3rd, your foot still on the floor. Why? We don't know. Sometimes it shifts itself for engine braking going downhill, when you don't need it to, while other times it doesn't when you do. There was so much override in the Select mode, it stopped mattering which mode we were in. Which was just as well, because the driver manually shifts by pressing a button with his or her right thumb on the side of the lever, requiring a buckling of the wrist, an ergonomic movement so awkward it's astonishing.
The suspension design is the same as the old Focus, MacPherson struts in front and multi-link in rear, but uses all new parts, such as bushings, control arms, shock valving, and anti-rollbar mountings. The track is wider by 2.6 inches in front and 2.3 inches rear.
There's an all-new power steering system, electric and rack-mounted, and the ratio has been significantly quickened from 16:1 to 14.7:1. Alas, our experience in some twisty Malibu canyons did not confirm Ford's claim of precision. In fact, in our Focus SE with the standard suspension, we struggled to keep the car precise in the curves, in contrast to our recent run in the Chevrolet Cruze, which handled like a dream when pushed fast through turns. Meanwhile the Chevy's 1.4-liter turbocharged Ecotec engine zooms to high speeds.
The Focus ride is good, with a suspension that's on the soft side, which doesn't help precise turning. When we ran a modest rise in the road full throttle at about 60 mph, the car floated and the tires chirped when it came down; we might have expected that at 70 or 80, but not 60.
Torque Vectoring Control is a new standard feature. It enhances cornering by imperceptibly applying the brakes to the inside front wheel, under acceleration. We might have used it a lot, the way we drove, but we never felt it. Or maybe it only comes on when the inside front wheel begins to spin, and since we were on dry pavement we never got there.
We got more seat time in a Focus SE Sport, equipped with the solid-shifting 5-speed manual transmission and sport-tuned suspension. Ah, relief. Our transmission and suspension complaints all go away. We wish we could have tested the sport suspension further, driving hard on those same twisty roads to see if it's totally precise; but we can at least say it's better. We found some rough patchy pavement, and the sport suspension is not too stiff for comfort on such bad surfaces.
There's also Active Park Assist, which will parallel park the Focus for you, while you just sit there. It's an improvement on the Toyota Prius system, which can only park if the space is 7 feet 9 inches larger than the car; using ultrasound, the Focus needs only a margin of 3 feet. However, it will require the driver's help with the accelerator in a space that small, because jockeying forward and back is required. Maybe we're stubborn, but we believe parallel parking should be a driving skill, not a computer one.