2012 Ford Focus Introduction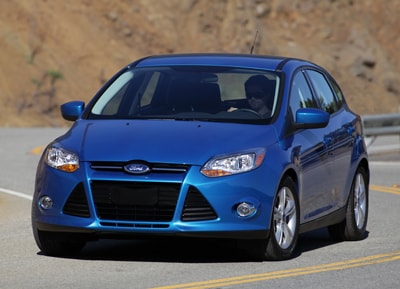 Totally redesigned, the 2012 Ford Focus looks, feels, and smells like the future. It makes its claim as the technology and fuel-mileage leader in the compact car class, a crowded and competitive field full of good cars with base prices in the $16,000-$17,000 range: Volkswagen Jetta, Chevrolet Cruze, Honda Civic, Toyota Corolla, Subaru Impreza, Hyundai Elantra, Mazda3, Mitsubishi Lancer, Kia Forte.
But the Focus is a mixed bag of function. The new 2.0-liter engine is super smooth, but the new 6-speed automatic transmission shifts at quirky times. The fabric seats are super, the interior materials excellent and the wraparound cockpit cozy, but there isn't much rear legroom.
Focus looks like a big Fiesta, with an unmistakably Ford shape. It's lower, longer and wider. The new Focus Hatchback model is especially aerodynamic looking. The windshield is steeply raked and roofline steeply dropped to the liftgate glass, making about as much of a teardrop as a chopped hatchback can be. Ford calls the distinctive wide-mouthed grille a split trapezoid, and thank heavens it's black and not in-your-face chrome like other Ford models.
All 2012 Focus models use an all-new 2.0-liter engine with direct injection and twin variable valve timing. A 5-speed manual transmission is standard, 6-speed automatic optional, with SelectShift manual mode an option to the optional transmission. The engine makes 160 horsepower and 146 pound-feet of torque, an increase over last year's engine. It's plenty powerful, but mostly, it's extremely smooth. That's what a driver will feel: "Man, this car is smoooth."
We observed fuel economy in the mid-20s when we were driving the Focus. Fuel economy figures from the U.S. federal government were not available when this was written.
There's excellent legroom in front, but compared to the previous Focus, Ford has somehow lost 2.9 inches of legroom in the rear, despite stretching the length of the car by 3.5 inches. The importance of rear legroom appears to have been discounted here.
Interior noise was definitely not discounted, however. The Focus is a compact car with the NVH qualities of a full-size car. A lot of productive effort went into making the cabin silent, with sound insulation. Powertrain noise has also been reduced, by attentive engineering of the new engine, transmission, and chassis.
MyFord Touch powered by SYNC is the connectivity system that Ford is touting with its new cars. The system uses twin high-resolution screens, including an 8-inch touch screen in the center console, to communicate with your car. The driver uses three senses: see, hear, touch. Ford says the system is designed to be simple and completely intuitive for the driver, and maybe it is designed that way, but that doesn't mean it works that way. We struggled with it. And we think all this technology can distract drivers from the important task of driving.
The gauges that are in front of the driver's eyes are easy to read: big tach and speedo with cool blue needles, fuel and engine temp between them, and easy-to-read digital info above the fuel and temp. The soft materials are clearly high quality, while the hard trim looks slathered on.
There's an all-new power steering system, with a ratio quickened from 16:1 to 14.7:1, but our experience in twisty Malibu canyons did not confirm Ford's claim of precision. In fact, in our Focus SE with the standard suspension, we struggled to keep the car precise in the curves, in contrast to a recent run in a Chevrolet Cruze. The Focus ride is good, with a suspension that's on the soft side, which doesn't help precise turning. We also drove a Focus SE with the 5-speed manual transmission and sport-tuned suspension. Ah, relief.